Environmentalists will be happy to hear that, yes, even funerals can be eco-friendly. Planning a green funeral will require some research though, as there are a lot of options and factors to consider.
Don't worry, we can help. Here's everything you might need to know about sustainable funeral planning, from eco-friendly burial methods to celebrations.
Article continues below advertisement
Here are some eco-friendly burial methods: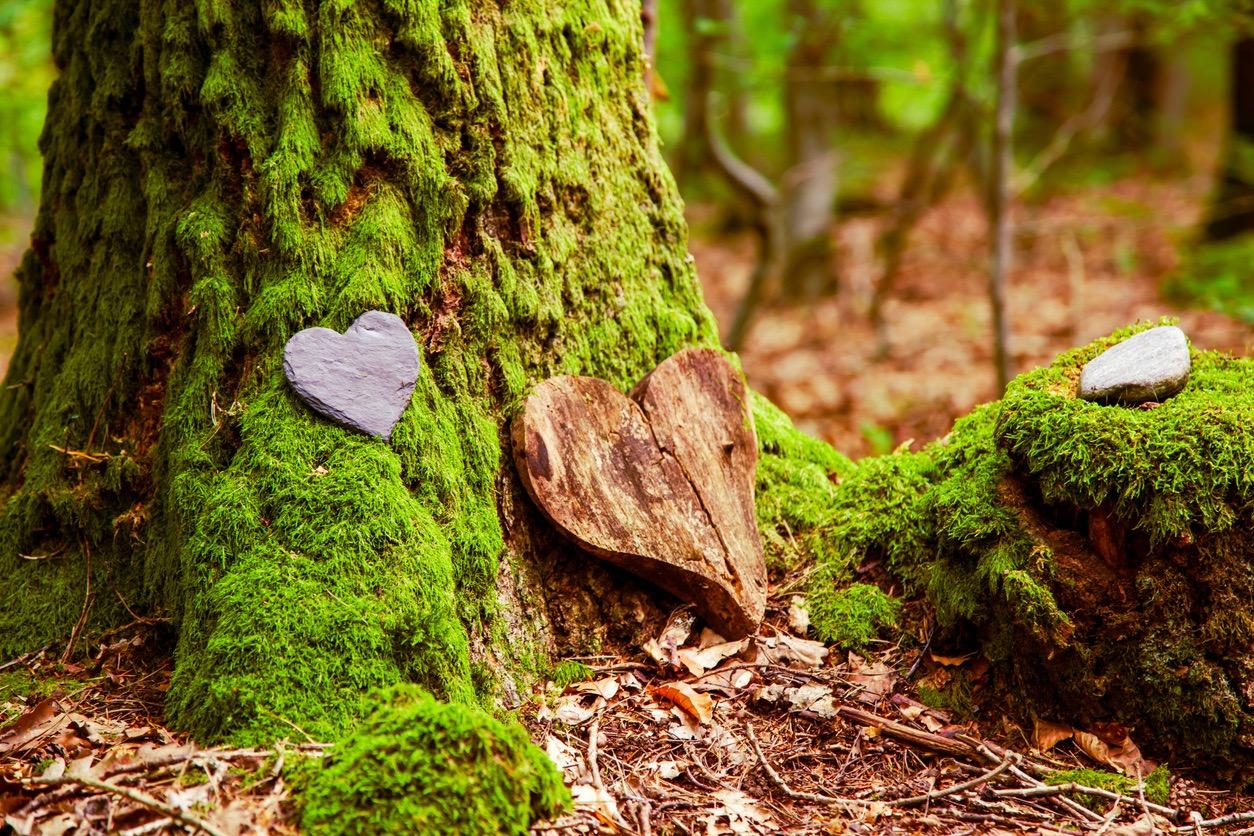 According to the Green Burial Council, the goal of a green funeral is to minimize any potential environmental impacts, which allows for the reduction in emissions and the conservation of our natural resources and habitats. The specifics can vary, but the baseline objective is the same.
For an option that is nearest to a more traditional burial method, people can choose a biodegradable coffin. This type of sustainable coffin uses non-toxic or organic embalming fluid and will naturally break down in the soil, Lincoln Heritage Funeral Advantage explained. There's also the choice of a wicker coffin as well.
Article continues below advertisement
Instead of using a coffin, some people opt for a shroud. This is when the body is wrapped in a natural cloth and then buried. One specific type of shroud has been gaining popularity, and that's the mushroom burial suit — a shroud made from mushroom spores.
After a person is buried in a mushroom shroud, the microorganisms start to germinate and grow. This begins the process of decomposing the body and breaking down any toxic chemicals that might be present (pesticides, lead, mercury, etc.). The result is nutrient-rich soil, which only furthers the sustainability of the method.
Article continues below advertisement
There's also the eco-friendly burial process of human composting, aka body composting or natural organic reduction. This involves mixing deceased bodies with wood chips and plants to help them turn into soil. The process is legal in six U.S. states as of publication: Washington, Colorado, Oregon, Vermont, California, and New York. A few companies are already offering human composting services, as well.
Another method to consider is water cremation, aka aquamation or alkaline hydrolysis. The process places a body in a cylinder with a solution of water and natural alkali salts, which dissolves the body. Water cremation is legal in around 28 states, according to US Funerals Online, as of publication.
Article continues below advertisement
How do you make a funeral, aka a celebration of life, more sustainable?
Choosing an environmentally-friendly burial method is probably the main consideration for a green funeral, but the celebration of life is important to include too.
Many different factors are involved in the celebration, such as floral arrangements, food services, memorial programs, cards, tributes, or hymns. All of the decisions can seem overwhelming, but luckily, most of the sustainable swaps are pretty simple.
Let's start with the flowers. Botanical Paperworks recommended going to a florist that uses native, locally grown, in-season flowers. Or, you can request that guests donate to a special cause instead of bringing flowers.
Botanical Paperworks also offers customizable memorial products infused with seeds, meaning you can plant them after the ceremony.
Article continues below advertisement
Certain types of paper can contain ingredients that are bad for the environment, and life celebrations tend to use a lot of them. To avoid this waste, consider printing your memorial cards or programs on recycled paper. Also, adding a recycling or compost bin in an easy-to-find spot wouldn't hurt either.
As for the food offered at the celebration, there's one main piece of advice to follow: Try to have as many plant-based options as possible! Everyone has different dietary preferences, but making plant foods a priority is a good way to keep sustainability in mind. You can also ask the caterers or facility to use reusable dishes and cutlery, rather than disposables.
Article continues below advertisement
What are the benefits of a green funeral?
Believe it or not, funerals are actually pretty bad for the environment, from the toxic chemicals used for embalming, to the fact that memorial parks and cemeteries use up a lot of space and resources. Many opt for cremation with the idea that it's more eco-friendly, but that's not exactly true either.
According to Business Insider, the process of cremation releases a lot of unpleasant chemicals into the air such as carbon monoxide, heavy metals, mercury, and more. So while cremations are technically a bit more sustainable than traditional burials, it's clear that they aren't a huge step up.
Article continues below advertisement
In addition to the environmental hazards posed by funerals, there's also the concern of finances. The average funeral costs about $10,000, Business Insider reported. On the other hand, a green funeral can be much more affordable (and better for the environment) — this is because they often forgo embalming, caskets, and vaults.
So, if you haven't already, it might be worth your time to consider making plans for your life to be celebrated with a green funeral. Not only is it better for the environment, but it's more practical, too.