Montreal-based vegan cheese brand Rawesome is suing the Canadian and Quebec governments to challenge the constitutionality and application of decades-old regulations under Canada's Food and Drugs Act that say terms such as "milk" and "cheese" can only be used to describe products made from cows' milk. In 2021, the City of Montreal filed charges against Rawesome, alleging that the term "cheese" on its vegan cream cheese products could mislead consumers—even though Rawesome's product packaging clearly states the cheeses contain no dairy—and that the term should only be used to describe foods made from cows' milk. 
Canada's food labeling regulations, which were created in 1979 and haven't been updated since then, say that milk is defined as "the normal lacteal secretion obtained from the mammary gland of the cow" and that cheese is made by coagulating milk or milk products. And under the Food and Drugs Act, there's a prohibition in section five against misleading consumers about the content of the food. 
Rawesome
Rawesome's case is taking a broader approach to fighting the charges against it in an effort to change the language rules for the industry as a whole. The company will argue in court that it is unconstitutional to ban vegan companies from using common terms like "milk" and "cheese" and is in violation of the freedom of expression and freedom of conscience rights guaranteed under the Canadian Charter of Rights and Freedoms, which gives consumers the right to easily seek out and identify foods that align with their ethical beliefs.
Labeling censorship on vegan food
Canadian animal law advocacy organization Animal Justice has been granted intervenor status in the case to expand on these constitutional arguments. Animal Justice executive director and lawyer Camille Labchuk says that the case against Rawesome is part of a broader pattern of authorities around the world singling out vegan companies in an attempt to make it more difficult for them to access the marketplace.
"We believe it's unconstitutional to ban plant-based food companies from using common language like 'milk' and 'cheese' to describe food," Labchuk tells VegNews. "No one is misled or confused by cashew cheese or soy milk, and it's time for Canadian regulators to stop targeting vegan companies. Labeling censorship gives an unfair advantage to Big Dairy and Big Meat, and puts plant-based companies at a competitive disadvantage."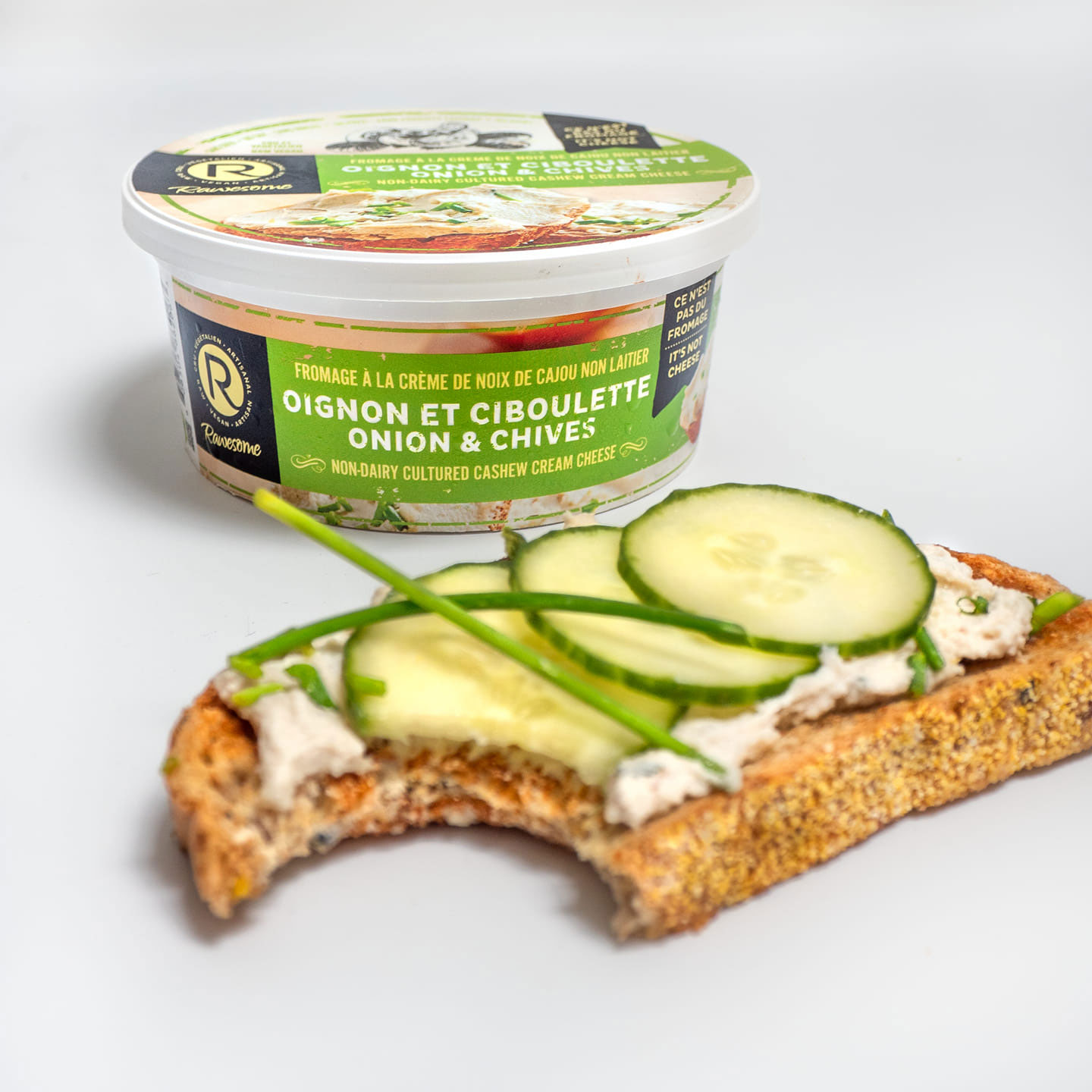 Rawesome
Interestingly, Labchuk notes that in Canada, no soy milk companies use the word "milk" on their vegan milk containers because they're all fearful of regulators. The meat and dairy industries have long argued that terms such as "vegan cheese," "non-dairy milk," and "plant-based burgers" are confusing to consumers, yet there is no evidence that consumers are misled by Rawesome products or any other vegan products that use such terms.
In 2019, the Canada Food Guide was updated to eliminate the dairy category altogether, yet food labeling laws still favor old notions that milk and cheese must come from animals. "The Canada Food Guide was updated three years ago to remove the dairy category, and it now encourages people to eat more plant-based protein. Yet Canadian labeling regulations haven't been updated since 1979," says Labchuk. "We're calling on the Canadian government to urgently update these laws to catch up with the growth of the plant-based sector, and help people more easily access vegan food that's healthier, better for the planet, and better for animals."
Vegan cheese is still cheese
Last year, American vegan cheese brand Miyoko's Creamery won a similar lawsuit against the California Department of Food and Agriculture (CDFA) about using the terms "butter" and "dairy" on vegan products. The lawsuit was filed on behalf of Miyoko's Creamery by animal-rights organization Animal Legal Defense Fund after the CDFA demanded that Miyoko's Creamery remove the terms "butter," "dairy," and "cruelty-free" from its packaging along with an image of a woman hugging a cow from its website.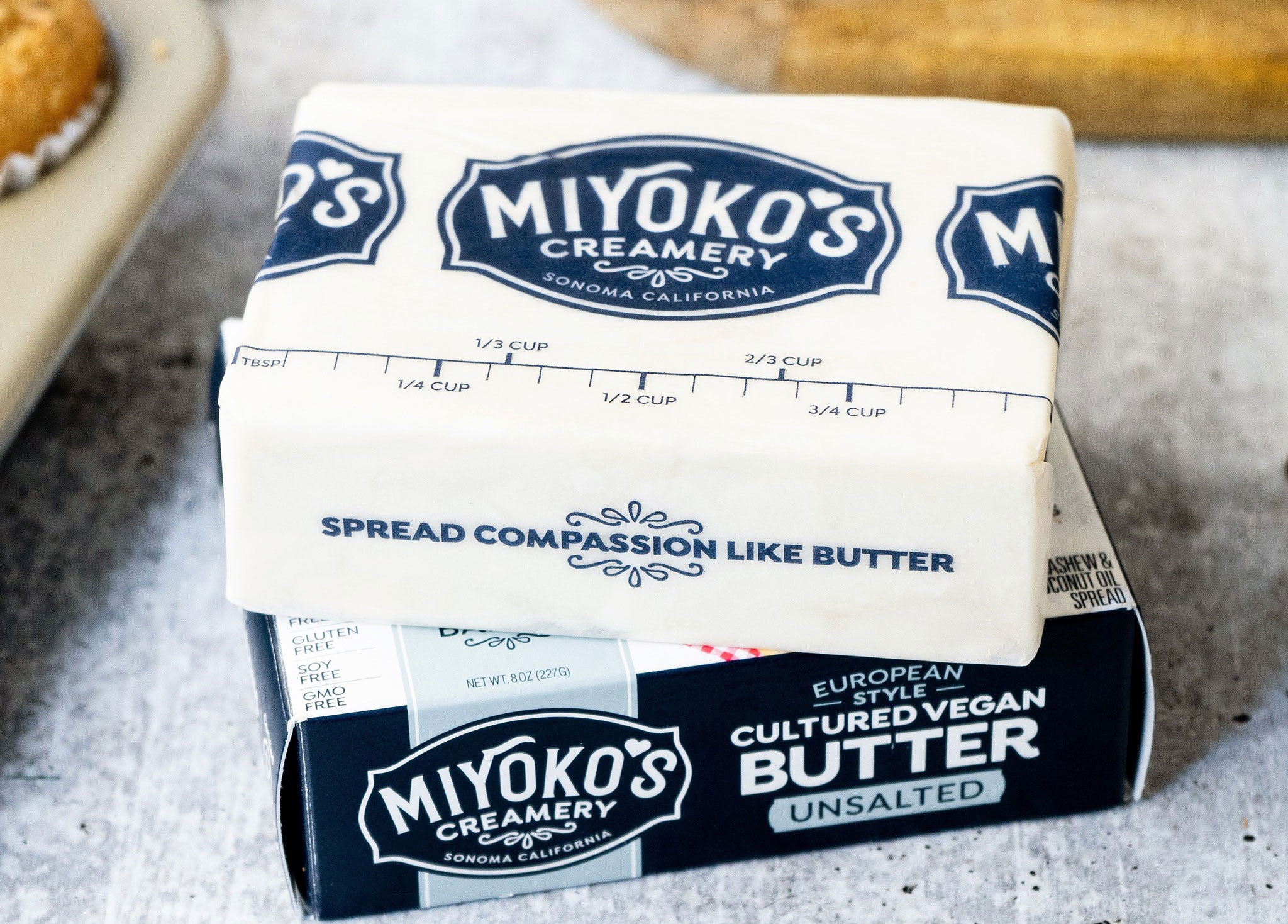 Miyoko's Creamery
In its lawsuit, ALDF says that the CDFA was misapplying federal regulations and violating Miyoko's constitutional right to free speech. The vegan brand's victory in the lawsuit set a precedent for other brands fighting to defend their corporate free speech rights when it comes to vegan food labeling. 
"Using words such as 'butter' and 'milk' in the context of even products made from plants and not from animals is common parlance among consumers in the modern world," Miyoko's Creamer founder Miyoko Schinner said in a statement at the time. "Food is ever-evolving, and so too, should language to reflect how people actually use speech to describe the foods they eat. We are extremely pleased by this ruling and believe that it will help set a precedent for the future of food." 
For the latest vegan news, read:
Who Will Be Featured on New Show Hosted By Food Network Star?
The Skinless Chicken Breast Gets a Vegan Makeover
Lawsuit Challenges AHA's Claim that Meat Is Heart Healthy