There's a new show giving viewers an inside look into the making of their favorite vegan products, from plant-based seafood to vegan whole eggs and more. Created by new media network Better for You Media, Behind the Wrapper takes viewers behind the scenes of established and up-and-coming food and beverage brands. Viewers join host Marc Summers—a longtime Food Network and Nickelodeon game-show host—for an intimate journey with brand founders to learn about the origins of their favorite products and for a behind-the-scenes look into production. 
Established earlier this year, Better for You Media will produce and create original content focused on food, health, and wellness. The global network ultimately aims to elevate existing, wellness-focused brands of consumer packaged goods (CPG) and further connect them to consumers and investment opportunities. "American better-for-you brands drive global wellness trends," Summers said in a prepared statement. "We have identified some of the most promising, which we will feature on Behind the Wrapper. Our episodic 'Bourdain-like' production will accelerate awareness in a big way." Better for You Media plans to begin airing the new show during the holiday season, and the company has its sights set on Discovery and Food Network. 
GT's Living Foods
Behind the Wrapper kicks off its first season with an inside look into kombucha giant GT's Living Foods. Summers will be joined by George Thomas "GT" Dave, the brand's founder, to show viewers how one of the leading kombucha brands in the country is made and bottled. More importantly, longtime fans of GT's Living Foods' kombucha will learn how Dave was motivated to begin brewing the fermented beverage after his mom was diagnosed with breast cancer in 1994. "I was a young, gay boy [who] was bullied in high school, had no sense of purpose, and all of a sudden, I had a purpose: to help my mom with her breast cancer," Dave says in the premiere episode trailer. "The only thing she could keep down was the kombucha."  
Battle of the brands 
And while Behind the Wrapper will feature both vegan and non-vegan brands, there's a number of plant-based pioneers who are vying for airtime. Currently, brands selected by Better for You Media are competing in Battle of the Brands, an online, multi-round competition where fans vote for the brand they'd like to see featured on Behind the Wrapper. As an added perk, fans are entered to win a year's supply of the winning brand in every round they vote. 
"Brand selection is an important part of our formula," Peter Groverman, founder of Better for You Media, tells VegNews. "First and foremost we are looking for a good founder story, or at least a compelling narrative the company has built and grown." Brands chosen to compete in Battle of the Brands, shares Groverman, have also been selected due to the projected potential growth of their retail categories. And finally, the chosen brands must also showcase a strong fanbase or social media following and must prioritize easy, open communication with consumers across social, email, and ecommerce platforms. "Brands with these attributes are the best candidates for Behind the Wrapper and truly make Battle of the Brands the 'ultimate snackdown,'" says Groverman.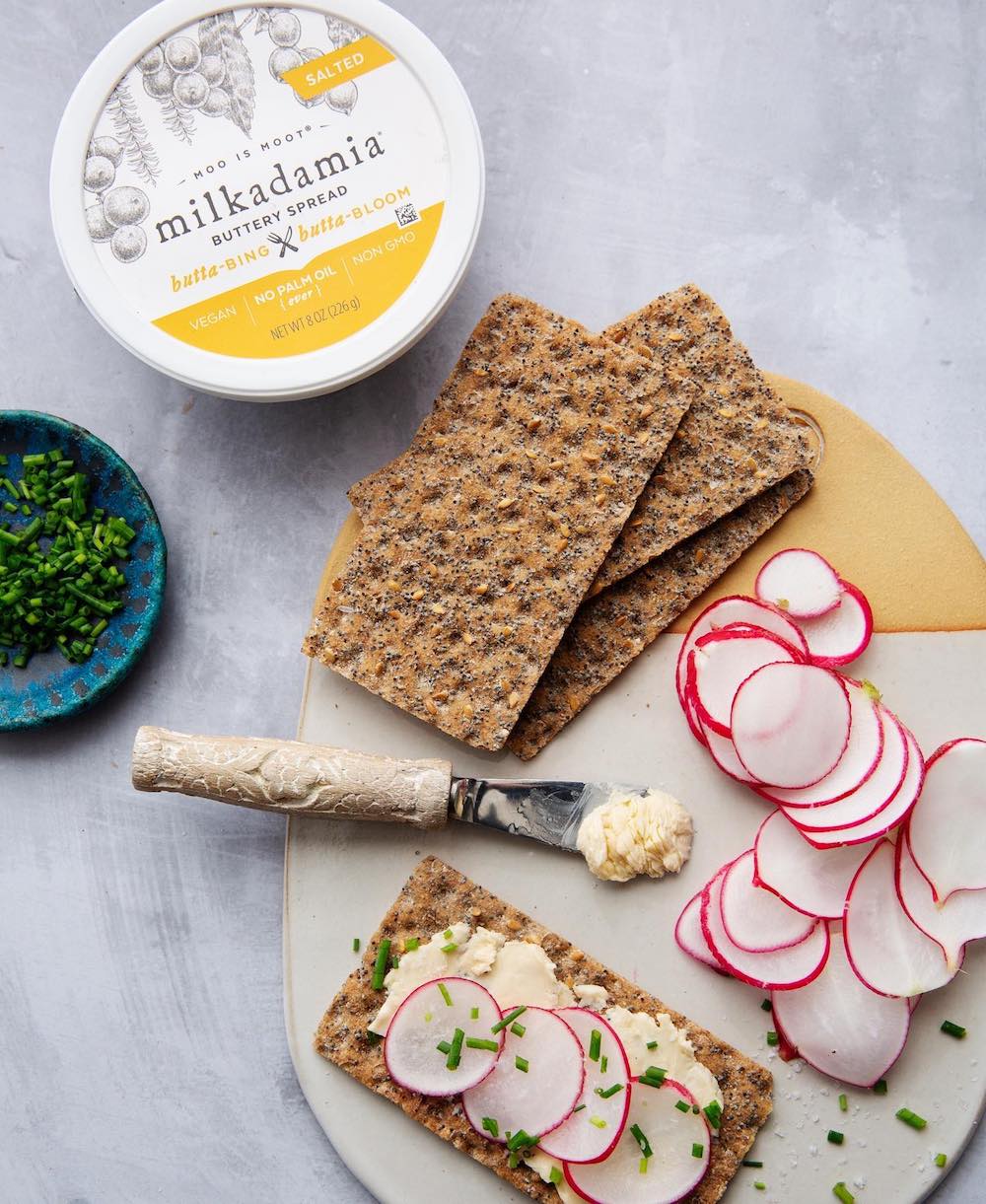 Milkadamia
Behind the Wrapper produces short videos about each brand to help fans make their selection. Thus far, eight, week-long rounds have been completed. In round one, vegan-friendly snack brand Mid-Day Squares proved victorious over Lemon Perfect, makers of bottled lemon water. Round two saw vegan-friendly snack brand Lesser Evil face off against plant-based Tosi Snacks, with the latter claiming victory. Rounds three and four saw vegan favorites Big Mountain Foods and Dandies Vegan Marshmallows lose to Cleveland Kitchen (makers of dressings, kimchi, and pickles) and Sunny Culture (which produces plant-based, probiotic drinks), respectively. Date brand Joolies beat out candy brand Zolli Candy in round five, and vegan dairy brand Milkadamia proved victorious in round six. Currently, votes for round eight—which saw pasta brand 3 Farm Daughters take on coconut condiment brand Big Tree Farms—are being tallied.
Round seven, however, shook up the plant-based world.
Vegan seafood vs vegan whole eggs
Vegan seafood brand Mind Blown Plant Based Seafood Co went head-to-head with Crafty Counter—makers of the innovative vegan whole egg WunderEgg—in round seven. Ultimately, the round was declared a tie when both companies drew in the same number of votes. "It was a fierce battle," Monica Talbert, co-founder and CEO of Mind Blown, tells VegNews.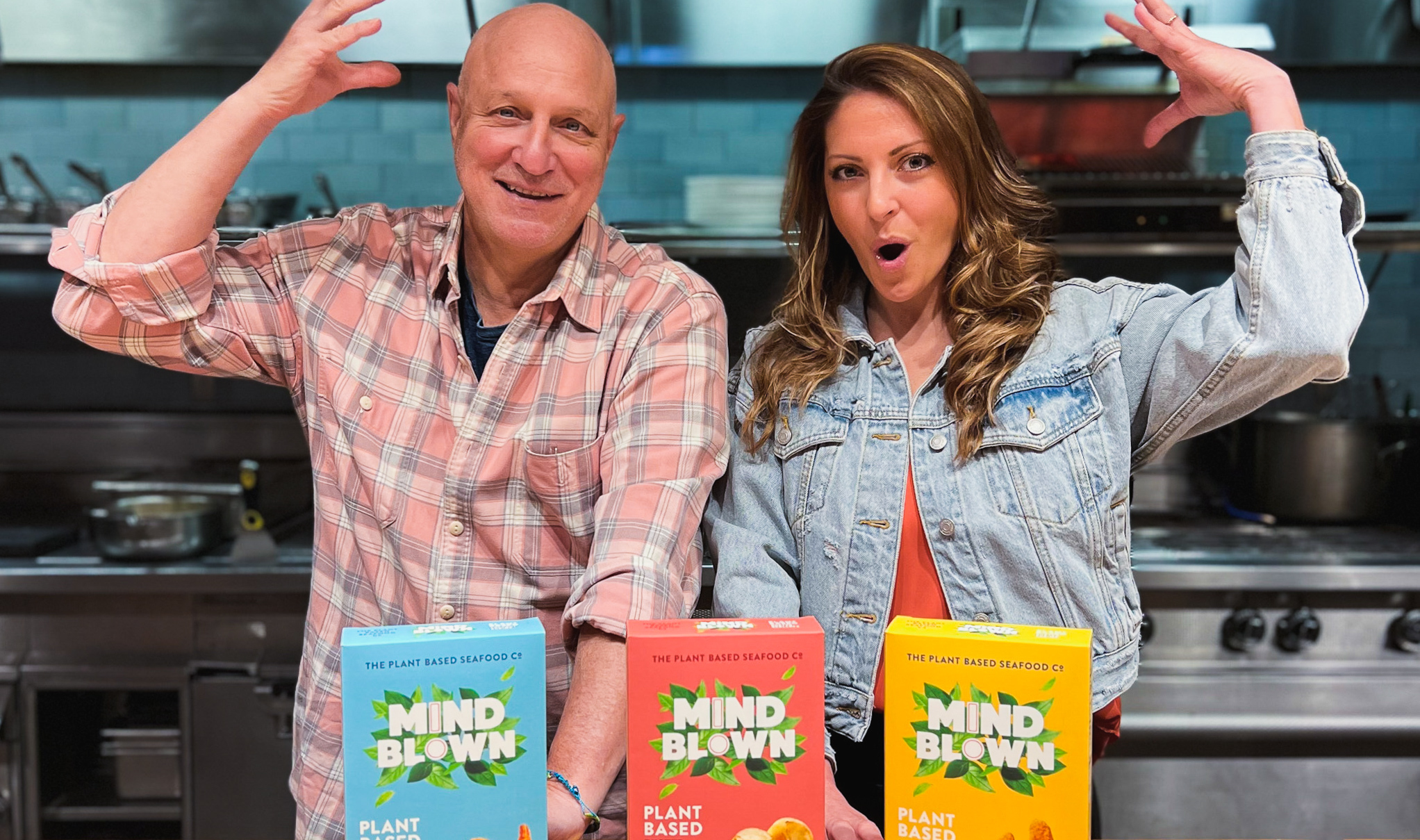 Mind Blown Plant Based Seafood Co
The women-led, family-owned company has roots in the seafood industry. But after witnessing "unacceptable and sometimes hidden practices" that lead to an increase in overfishing and other destructive practices, the seafood veterans decided to offer plant-based alternatives. 
"The last hour of voting, our office looked like a war room. It was a phone-a-thon, everybody was calling old high school friends we hadn't talked to in years. It was neck and neck," says Talbert. "When we both came out victorious, we couldn't be anything but elated […] Knowing that Crafty Counter and Hema both won, I was elated for her whole team."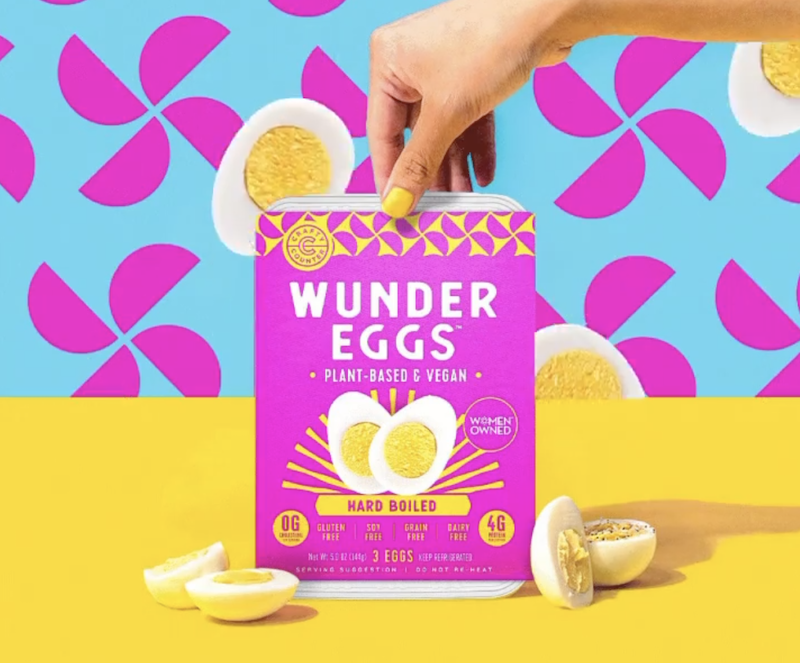 Crafty Counter
Hema Reddy, Crafty Counter founder and CEO, echoes Talbert's sentiments. "Being a mission-driven company, you always put purpose above all else," Reddy tells VegNews. "For us to go on TV with another brand, and both get national recognition, that is a celebration. We're here to win, but if we can share this victory with another brand that's also making a difference on the same mission we're on, there isn't anything more beautiful than that."
For Reddy, this victory isn't just a celebration of plant-based brands, it's also elevating women-led companies and proving that the vegan egg sector is poised to make history.
Together, six vegan brands will be featured on Better for You Media's Behind the Wrapper. While the show is currently focused on spotlighting wellness-oriented CPG food and beverage brands, there are plans to expand into other high-growth wellness categories such as cosmetics, home goods, and companion animal foods. 
For the latest vegan news, read:
Skinless Chicken Breast Gets a Vegan Makeover
American Heart Association Says Meat Is Healthy. Lawsuit Says It's a Lie.
California's Only Legal Foie Gras Hits the Menu at LinkedIn HQ