Article continues below advertisement
Zabriskie Point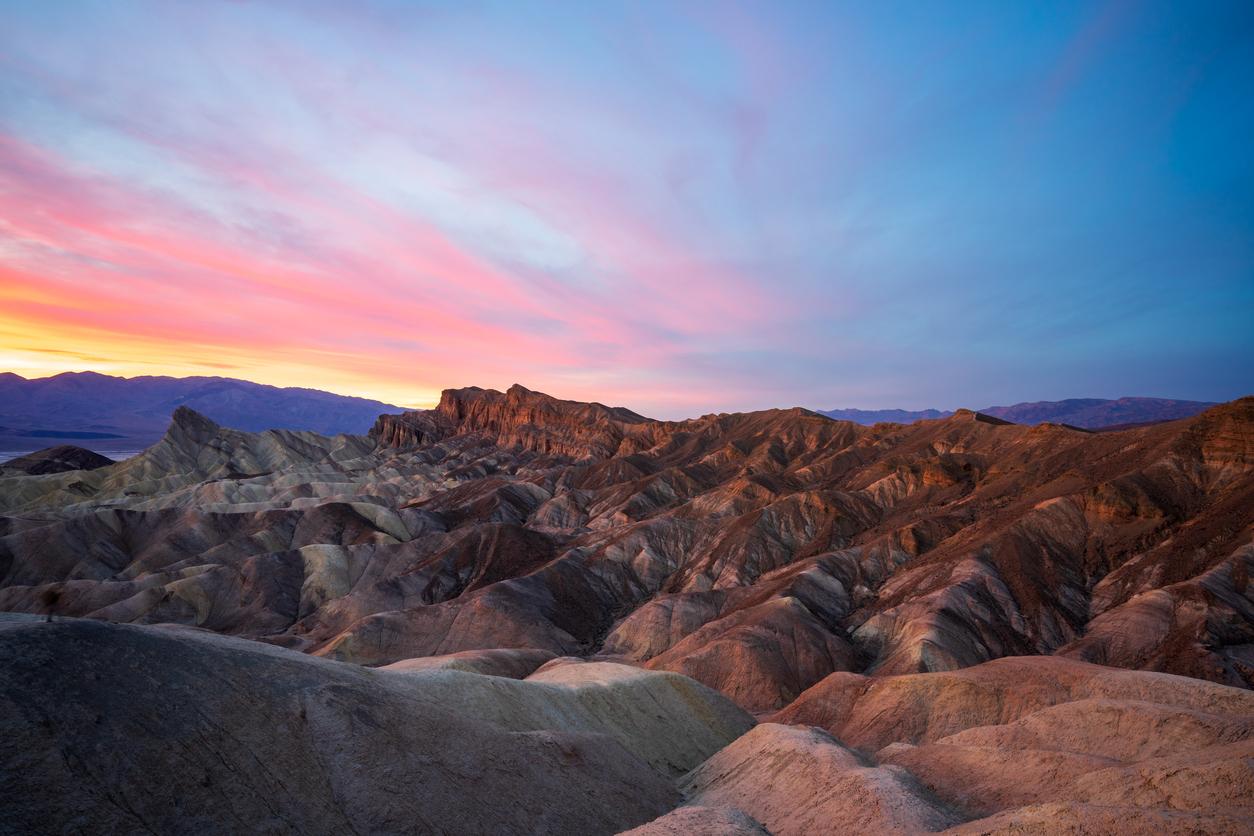 This is a great place to kick off your visit. It might be a short hike, but Embrace Someplace described it as the "crème de la crème" of Death Valley, meaning it's not a spot you'll want to skip.
Zabriskie Point is a 0.4-mile out-and-back hike that's wheelchair-accessible and stroller friendly. According to AllTrails, the end of the trail overlooks the "wildly eroded and vibrantly colored badlands." You can't miss this iconic spot.
Article continues below advertisement
Badwater Basin Salt Flats Trail
Badwater Basin is an easy 1.9-mile trail that guides hikers along the salt flats. The geography is unique and interesting — it's sure to grab your attention. If you're just making a quick day trip to Death Valley, this is a great place to check out. It's also wheelchair accessible!
Article continues below advertisement
Mosaic Canyon Trail
This is a moderately-rated trail around 3.3 miles long. AllTrails described Mosaic Canyon as "the perfect hike for geology lovers and adventure-seekers" due to the narrows, scrambling, and dry falls.
The best months to visit are between October and April. Sadly, there are no dogs allowed on this trail, so you'll have to leave them at home.
Article continues below advertisement
Mesquite Flat Sand Dunes Trail
The Mesquite Flat Sand Dunes are very popular and it's not unusual to see people getting photos taken on this trail — after all, the dramatic lighting and alluring landscape make for a great photo op.
This hiking trail is 2.8 miles long and rated as easy on AllTrails. There's truly no defined trail, so you can walk as far as you'd like, just don't get lost! The best time of year to visit the sand dunes is between November and March.
Article continues below advertisement
Golden Canyon Trail
Golden Canyon Trail to Red Cathedral is relatively short, but that doesn't mean it's easy. The out-and-back hike is 2.9 miles and has a few sections that are a bit challenging. But if you can make it through, the view at the top is totally worth it!
Article continues below advertisement
Gower Gulch
Gower Gulch Loop trail is very popular, so there's a good chance you won't be hiking this one alone. The moderately-rated loop is 4.2 miles and it brings you to a spectacular view of the Golden Canyon, which has huge rock walls rising vertically on both sides.
Article continues below advertisement
Telescope Peak Trail
Now, if you're in for a real challenge, Telescope Peak is a good choice. This 12.7-mile hike is a complete doozy — you're going to need to be seriously prepared. The trail is full of mountain views, awesome forests, and lots of scrambles. Only attempt this if you're an experienced hiker!