During the first month of the year, many people take on Dry January as their New Year's resolution. The month-long campaign challenges participants to eschew drinking alcohol until the clock strikes February. For that reason, we're rounding up some of the most eco-friendly non-alcohol drinks on the market.
Article continues below advertisement
Many people experience life-changing benefits and decide to turn Dry January into a lifetime of sobriety. On the other hand, others simply enjoy the health benefits of a 31-day break from alcohol, which include feeling better overall, as well as improved cholesterol, sugar, and blood pressure levels, as Dr. Rotonya Carr told PBS.
No matter your involvement in Dry January — or whether you're just curious to try some of the non-alcoholic beer, wines, and liquors on the market — here's a look into a few brands.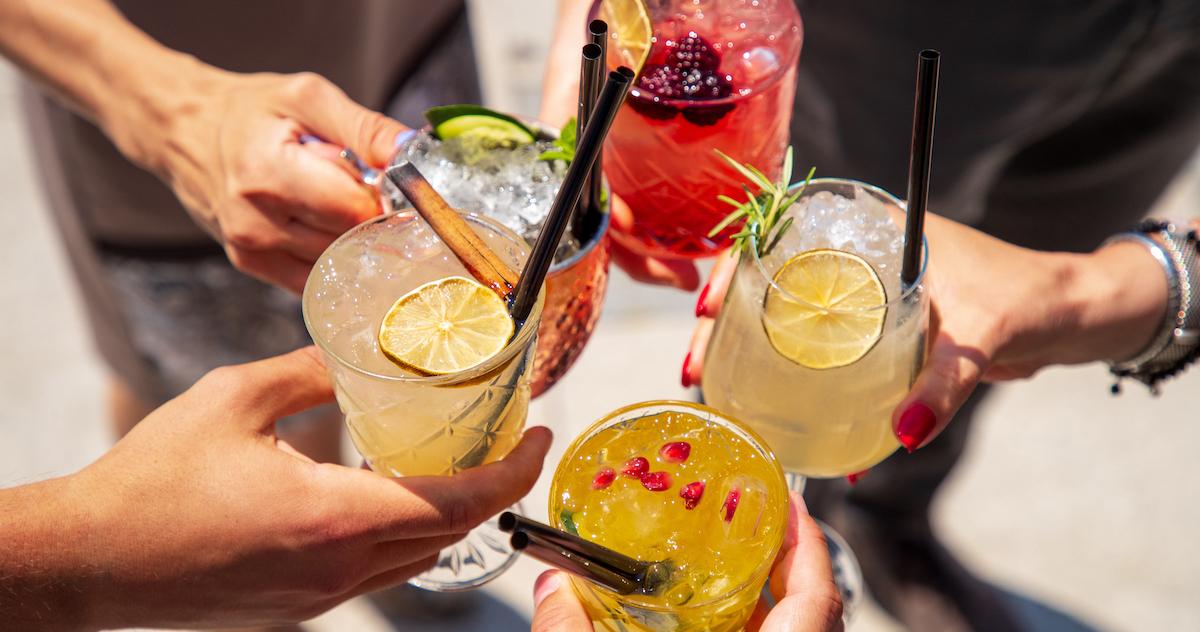 Ghia's non-alcoholic apéritif drinks were seen on 'Shark Tank.'
Ghia is a spirits-free apéritif, which is a drink meant to be consumed just before a meal to stimulate one's appetite. Ghia, which appeared on Season 14 of Shark Tank, is made with "only pure, natural extracts. Potent plants. Heady herbals. Blithe botanicals." The drink's all-natural ingredients include yuzu juice, elderflower extract, and fig concentrate; it's also sugar-free. Ghia also offers a special Dry January Pack.
Article continues below advertisement
Ghia does not use any single-use plastic, and instead bottles its beverages with exposed aluminum, which makes it more likely that every bottle and can will be recycled. The company also uses 100 paper packaging and biodegradable inks, but customers can choose to opt out of additional packaging by choosing "eco-packaging" in the cart.
Article continues below advertisement
Three Spirit's non-alcoholic drinks are adaptogenic.
The brand Three Spirit makes its adaptogenic, non-alcoholic drinks from sustainably-sourced plants that have been traditionally used for centuries. The drinks have cool names like Livener, Social Elixer, and Nightcap, and aim to provide the body with a touch of the various benefits that alcohol may give someone — from increased energy to deeper sleep — without any alcohol. (Some of the drinks do contain "clean caffeine," though.)
Article continues below advertisement
Three Spirit is 100 percent vegan and gluten-free. Additionally, all of the company's bottles are made from 100 percent recyclable glass, and its packaging is also recyclable. Plus. Three Spirit is a Certified B Corp.
Article continues below advertisement
Abstinence Spirits is inspired by nature in South Africa.
Inspired by the diverse floral kingdom in South Africa, Abstinence Spirits makes premium distilled non-alcoholic spirits from "beautifully blended botanicals and spices to become your cocktail mixing staple." Offerings range from the Blood Orange Apertif to the Cape Citrus, with discounts available when ordering bundles.
Article continues below advertisement
The company makes its drinks in small batches with a hydro-distillation process. Abstinence Spirits is a 1% for the Planet member, meaning the drink company donates at least 1 percent of its annual sales to environmental causes.
Article continues below advertisement
Mocktail Club's non-alcoholic drinks can be taken on the go.
Mocktail Club makes "better-for-you non-alcoholic beverages," filled with things like prebiotics and antioxidants to make them much healthier than the average drink. The company's beverages, which are lightly sparkling, combine sweet, sour, and savory flavors to help balance the overall taste without using any alcohol. The flavors, which range from Capri Spritz to Manhattan Berry, all come in aluminum cans.
Article continues below advertisement
The company's drinks are free of sugar, artificial color and flavors, and preservatives. They are also non-GMO certified, gluten-free, and vegan.
Additionally, Mocktail Club donates 1 percent of its sales to support clean water access around the globe, it sources its fruit juice from organic suppliers, and it packages its drinks in "sustainable packaging."
Article continues below advertisement
Bax Botanics makes beautifully-bottled alcohol-free spirits.
The U.K.-based company Bax Botanics makes alcohol-free spirits. The company's method involves distilling its drinks from water in beaten copper alembics, using the same method as an alcoholic spirit; the liquid is then flavored with various botanical ingredients. Bax Botanics uses organic and ethically-sourced herbs and botanicals, and packages its drinks in glass bottles and aluminum cans.
Article continues below advertisement
The company's drinks are vegan and gluten-free. Bax Botanics is also working on making its packaging as sustainable as possible, and even prints its labels printed with a material that is a byproduct from the sugar industry, as per Dry Goods Drinks. The company is also SALSA (Safe and Local Supplier Approval) Approved.