This year, Burger King is celebrating World Vegan Day (November 1) in a unique way. For one week, the fast-food giant is putting Dirty Vegan Nuggets on its menu in the United Kingdom. The new option consists of vegan chicken nuggets made by The Vegetarian Butcher that get dirtied up by being slathered in smoky barbecue sauce and topped with crispy onions. 
Burger King UK
For Veganuary in January, Burger King became the first fast-food chain in the UK to add vegan chicken nuggets to its menu after it launched The Vegetarian Butcher-made nuggets in six-piece, nine-piece, and 20-piece boxes along with sweet chili dipping sauce. 
The new Dirty Vegan Nuggets build upon Burger King UK's substantial plant-based options. These will be available from November 1 to November 6 with a special code which customers must source in the Burger King app. The nuggets can also be ordered for delivery UK-wide through Deliveroo. 
Burger King UK commits to vegan fast food
Globally, Burger King first got into plant-based food with the launch of the Impossible Whopper in the United States in 2019. Since then, the fast-food chain has made some major changes to its menus worldwide, particularly in the UK. There, Burger King's goal is to make half of its menu plant-based by 2030—a move that would help the chain achieve its target of reducing greenhouse gas emissions by 41 percent. 
"Adapting to customer preferences is a key focus at Burger King," Alasdair Murdoch, chief executive of Burger King UK, previously said in a statement. "We are committed to helping our guests make good decisions about what they eat and drink and providing them with informed choices."
At its UK locations, Burger King works with its European supplier The Vegetarian Butcher to offer plant-based versions of iconic menu items, including a Plant-Based Whopper (which got a vegan makeover during a brief pandemic-induced hiatus); Vegan Royale (a plant-based chicken sandwich); and many more.
Burger King's efforts to lead the plant-based fast-food revolution have also resulted in meatless pop-ups around the world, starting at one location in Germany and expanding to Spain, Switzerland, Costa Rica, Israel, and more.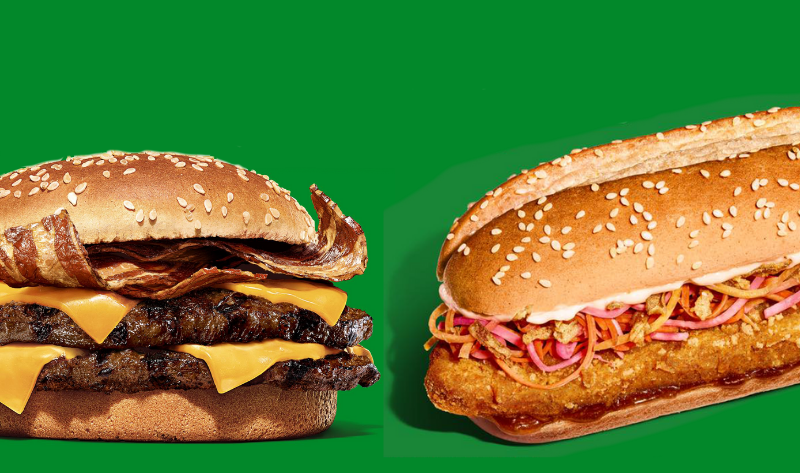 Burger King UK
In the UK, Burger King took its pop-up initiative a step further and transformed its London's Leicester Square to an entirely vegan location for approximately a month this spring. There, guests could choose from 25 vegan options such as vegan bacon double cheeseburgers, chicken nuggets, chili cheese bites, and Japanese-inspired Vegan Katsu Royale, and more.
The fast-food giant is continuing to explore vegan food in the region with a new popup in Bristol which is running from October 26 until November 6 and offering guests 24 plant-based versions of classic Burger King menu items. 
Burger King ventures into vegan chicken
Burger King might have entered the plant-based world the Impossible Whopper but its exploration of vegan meats has now led it into new categories such as plant-based chicken.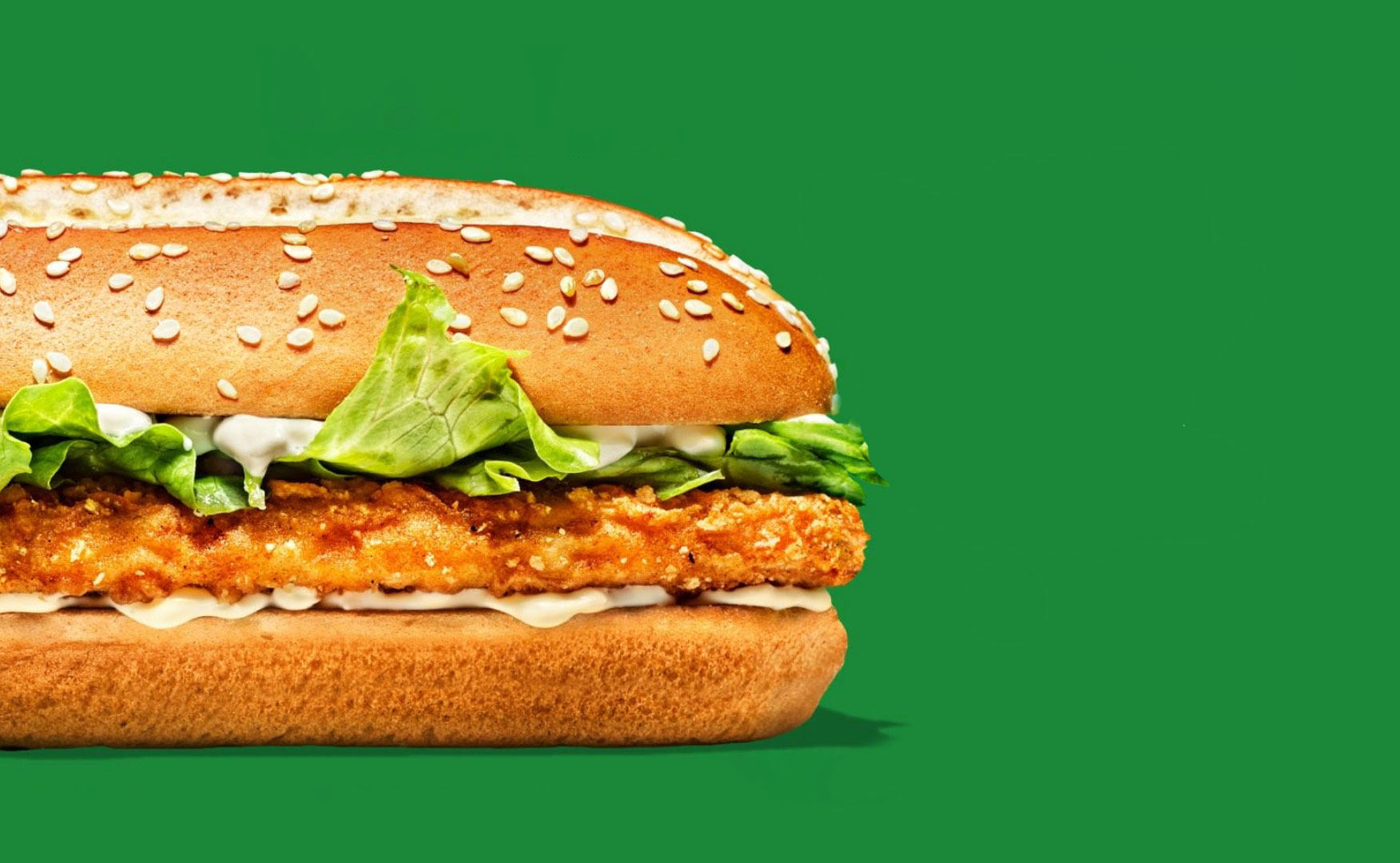 Burger King Chile
In Chile, the fast-food giant announced in July that it is working with TheNot Company, a local food-technology company that utilizes artificial intelligence to make plant-based approximations of animal products. There, Burger King expanded upon existing plant-based chicken nuggets with two sandwiches that feature Notco's vegan chicken: King Vegetal and King Italiano Vegetal.
In Israel, the Burger King franchise just announced a new partnership with local startup Meat. The End (MTE) which supplied items, including plant-based chicken nuggets, to its meatless pop-up in Dizengoff Center location in Tel Aviv last week. 
In its home market, Burger King was the first fast-food chain to put Impossible Nuggets on the menu, which it tested last year at select locations in Des Moines, IA; Boston, MA; and Miami, FL. While this test did not yet result in a national rollout of the vegan chicken nuggets, Burger King is continuing to work with Impossible Foods on new items.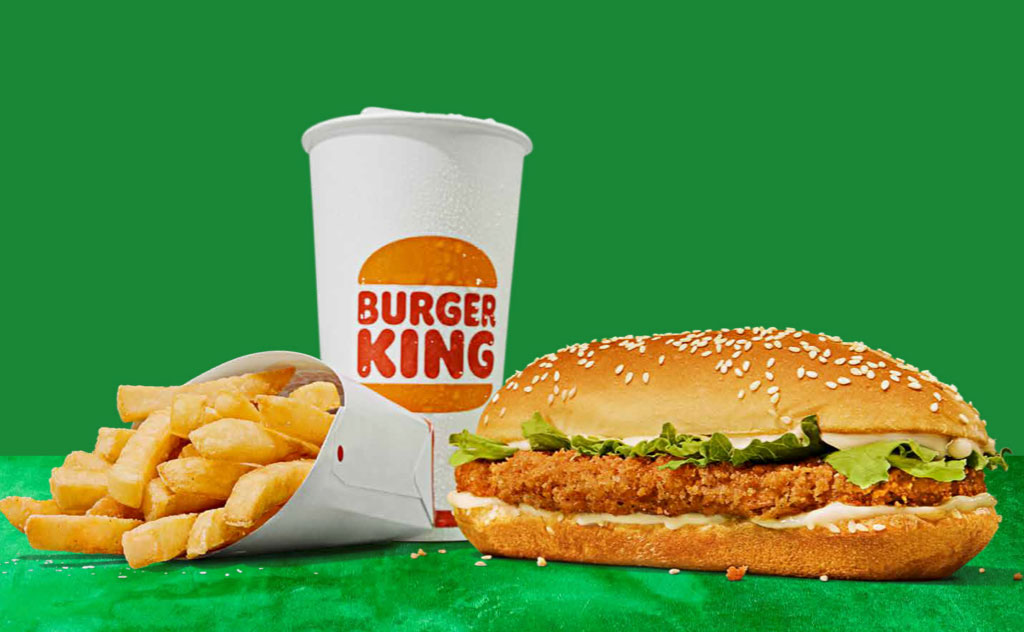 Burger King US
In August, Burger King launched its first plant-based chicken sandwich for a limited time at Cincinnati, OH locations. There, the Original Chick'n Sandwich was made with Impossible Foods' new Impossible Chicken Patties made from Plants and could be ordered fully plant-based by omitting mayonnaise. 
And while vegan chicken continues to find menu placement at Burger King, the chain is also taking a close look at plant-based bacon. Back in the UK, its Bristol pop-up is currently serving The Bakon King which features vegan bacon by La Vie, a Parisian startup backed by vegan actress Natalie Portman.
The vegan bacon hit the menu in Bristol after making an appearance at Burger King's London pop-up and its locations in France in March. 
For the latest vegan news, read: