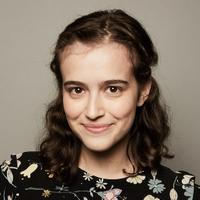 When it comes to fighting for social justice issues, there are many different tactics that can be taken, with each varying form of activism working together to help achieve social change. One tactic that has been quite successful in various social justice battles is the peaceful protest form of protest known as civil disobedience, which has been increasingly used in climate change activism in recent years.
Article continues below advertisement
However, the major international climate movement Extinction Rebellion, which is well-known for its non-violent disruptive demonstrations, recently announced that it is moving away from this sort of civil disobedience, as part of its 2023 strategy.
Keep reading to learn more about how civil disobedience has been used to protest inaction on climate change, as well as what Extinction Rebellion's protest tactics will look like going forward.
Article continues below advertisement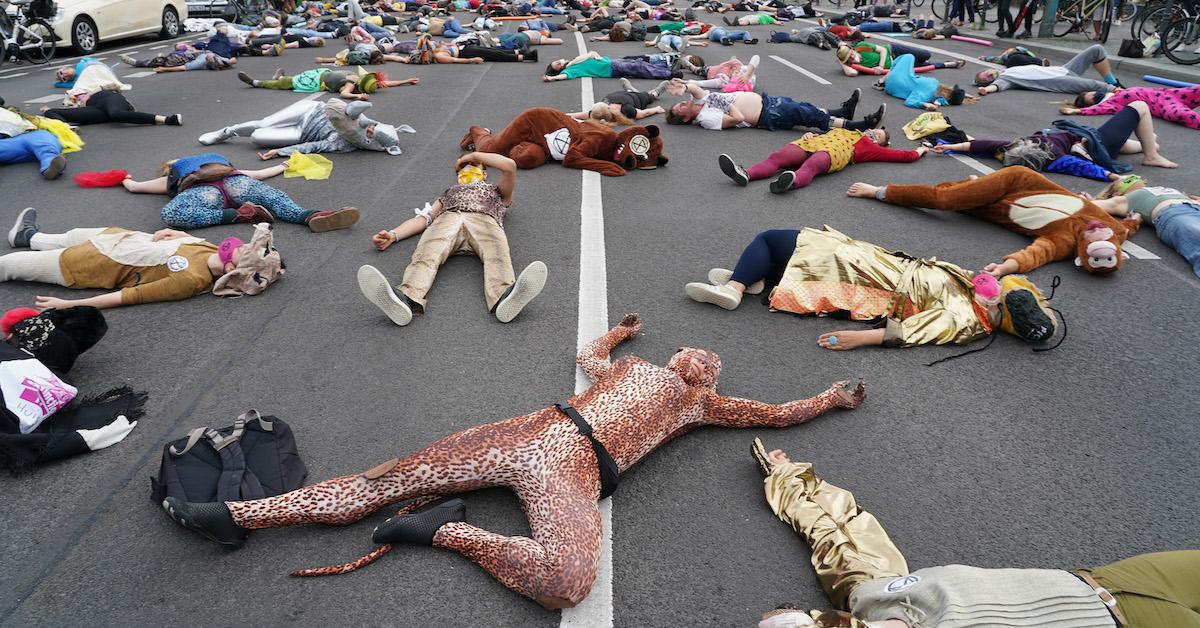 What is civil disobedience? The protest tactic has been used for climate change action among other issues.
Civl disobedience is a protest tactic in which protestors refuse to follow certain laws, or intentionally break a law or rule, for the purpose of bringing attention to an issue. As suggested by the word "civil" in the title, civil disobedience is based upon being peaceful and non-violent.
Many associate civil disobedience with Martin Luther King, Jr., who was a major advocate and practitioner of civil disobedience as he led the civil rights movement.
Article continues below advertisement
NASA scientist Peter Kalmus, who went viral for making an emotional speech while chained to a Chase Bank in during a climate protest, has long been a champion of civil disobedience in the climate movement.
Article continues below advertisement
"The only [form of activism] that's been able to break through [those sugarcoating the truth about the climate crisis] in any significant way has been civil disobedience," Kalmus told Green Matters in a 2021 interview in the aftermath of that protest.
Extinction Rebellion is moving away from civil disobedience in 2023.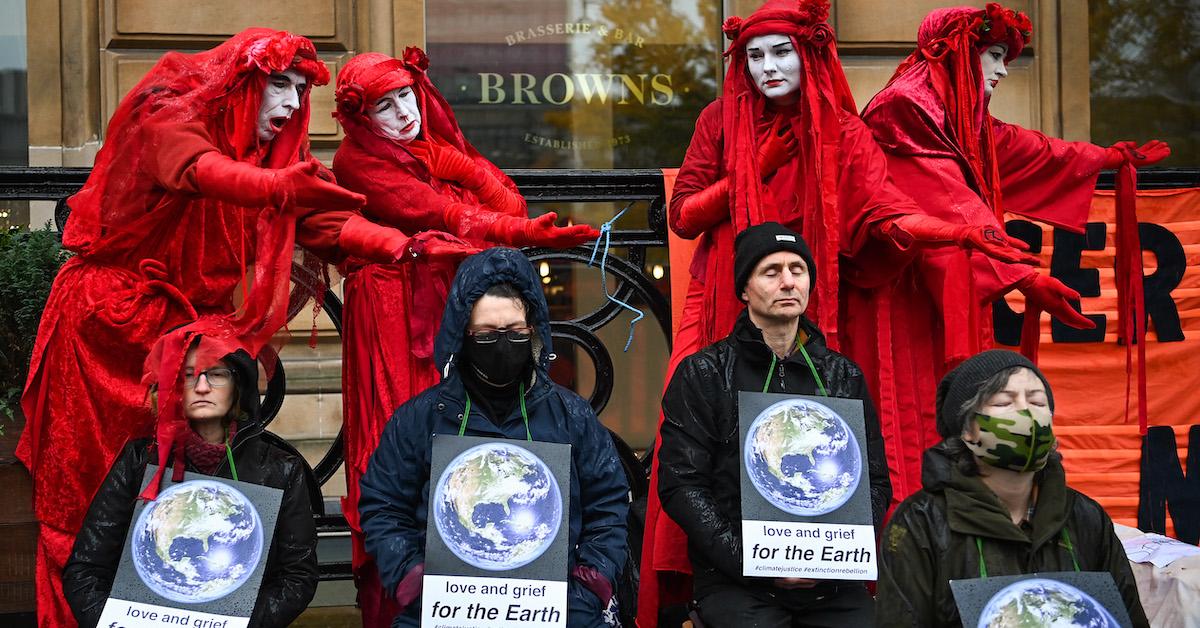 Article continues below advertisement
For nearly four years, XR operated this way, with a focus on disruptive actions. As a recent example of the group's protests, in November 2022, Extinction Rebellion (along with Scientist Rebellion) staged a series of disruptive protests at airports in more than a dozen countries, in an effort to convince world leaders to ban private jets.
But on the last day of 2022, the U.K.-based group made a surprising declaration on social media, writing: "WE QUIT!"
XR added that its New Year's resolution is to "halt tactics of public disruption." Instead, the group is calling on the public to help disrupt the government.
Article continues below advertisement
As XR further explained in a press release, despite all the hard work of climate XR protestors over the past few years, and the "blaring alarm on the climate and ecological emergency ringing loud and clear," leaders have not taken enough action to curb the climate crisis.
Article continues below advertisement
"Emissions continue to rise and our planet is dying at an accelerated rate," XR wrote, largely attributing this to , and the media. "What's needed now most is to disrupt the abuse of power and imbalance, to bring about a transition to a fair society that works together to end the fossil fuel era."
So for 2023, XR is taking on a new approach. The group will be stepping away from disruption, and emphasizing "attendance over arrest and relationships over roadblocks, as we stand together and become impossible to ignore."
XR believes that the wide range of activists within various social, environmental, and justice movements must find common ground and "unite to survive."
Article continues below advertisement
And XR's first action of 2023 under this new strategy will be a major one — in fact, it's called "The Big One." Beginning on April 21 (the day before Earth Day), 100,000 people will will gather outside of the various Houses of Parliament in the U.K. (100,000 was chosen because that's how many signatories are on a petition that gets a question raised in Parliament.)
XR will do this "day after day in large numbers," in pursuit of "[demonstrating] faith in a critical mass of people to create a moment that's impossible to ignore." The group is inviting "all humans, all movements, all organizations to come together and stay for as long as you can."
Article continues below advertisement
The group is still describing this action as a nonviolent, direct action (NVDA), which may include various civil disobedient actions. However, instead of being disruption-based, The Big One will be all about getting as many people as possible involved and emphasize inclusion.
As of publication on Jan. 31, one month after The Big One was announced, a little more than 11,300 people have pledged to be there — but many more are needed to get to XR's goal of 100,000 participants. You can find ways to get involved XR's website.