After seeing an Instagram post about an abandoned dog, New Yorker Heather Hamm rescued the sweet puppy, and has taken her home.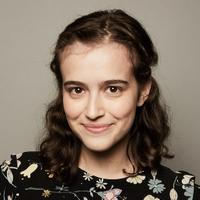 The Instagram account NYC Free at the Curb is typically used to alert followers of furniture or other goodies left for the taking on the streets of New York City — aka "stooping." But this week, the account shared a photo of a sweet dog who had been abandoned and was in need of some love — leading to her prompt rescue by a dog-loving New Yorker named Heather Hamm.
Article continues below advertisement
We spoke with Hamm to get her full account of the heartwarming story, and to learn more about how the dog — now named Peaches — is adjusting swimmingly to life at her new home 48 hours later, since Hamm has officially adopted the dog.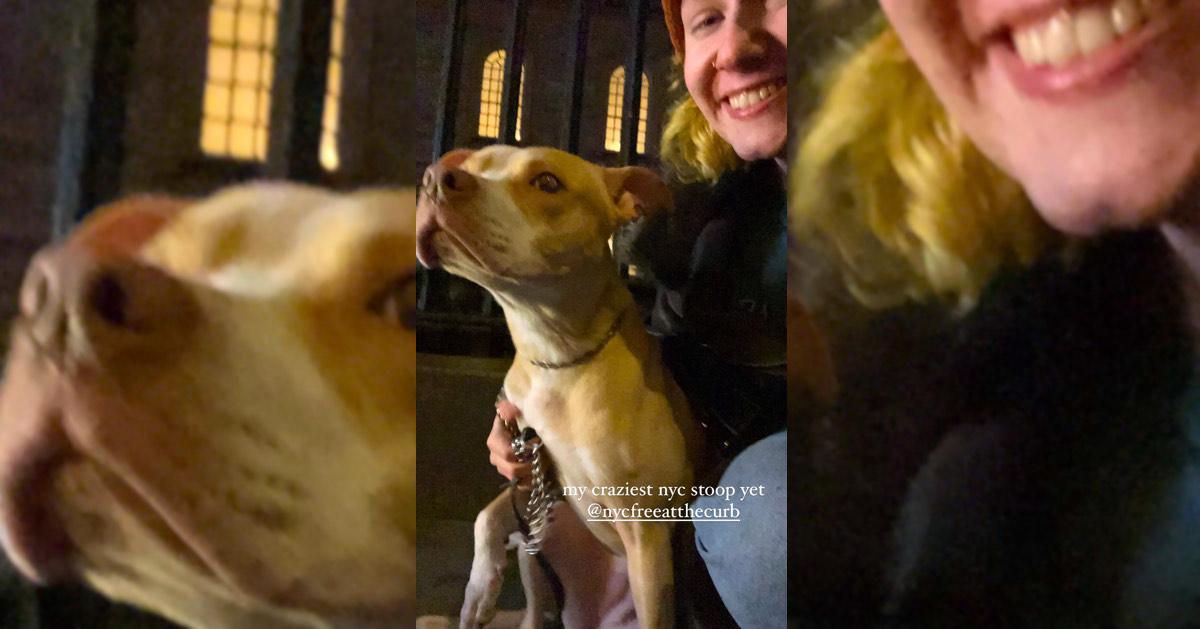 Article continues below advertisement
A free furniture Instagram account alerted its followers to the abandoned dog.
On Monday, March 27, Heather Hamm was having an ordinary evening in her apartment, when she opened up Instagram and her life changed forever.
"The first post I saw on my feed was from NYC Free at the Curb. It was a photo someone had submitted that they took of Peach, tied to the stair railing and clearly looking confused and scared," Hamm tells Green Matters exclusively in an email on Wednesday, March 29.
"Emergency! Needs a rescue!" read the caption of the photo on NYC Free at the Curb's post, which showed Peaches tied to a handrail with a leash. "Someone just tied this dog to a pole at a subway stop!!! Fulton Street subway station where the 4/5 runs! In FiDi! Someone left a scared dog tied up!!!"
The account shouted out its follower @sashiiimii_i, who alerted them of the dog.
Article continues below advertisement
When Hamm saw the post, it had only been live for a few minutes.
"Although my immediate gut reaction was to go get her, there were already a handful of comments so I assumed … that surely someone had already volunteered themselves to go get her," she tells us. "I mean, it was a puppy in the pouring rain, late at night and chilly — so it felt like common sense."
Article continues below advertisement
But after an hour, when Hamm saw a comment that the pup was still there, she immediately ordered a Lyft to the Fulton Street station, and left a comment on the post stating that she was on her way.
Hamm arrived at the station about 30 minutes later, and another citizen who found the dog was calling the police.
"I put my hand out, and for a split second, she backed away — but then immediately came to me. I realized then that she was clearly a puppy still," Hamm says. "Her tail was wagging like crazy, she was giving me plenty of kisses and puppy jumps. She quite literally jumped into my arms while I was bent down to her."
Article continues below advertisement
Then, the police arrived, and Hamm and the other citizen filled them in on the scenario. "They told me that given everything, she was mine! At least for the night," Hamm says, adding that the police explained that "if they were to take her, they would end up taking her to [local shelter] the ACC, and that's only if they had room."
Because of that — and the fact that Hamm had quickly set up a corner of her apartment with a food and water bowl before heading out the door, just in case — the police "agreed that that was a good option for her, given the circumstances."
Hamm named her Peaches, and brought her home.
The following morning, NYC Free at the Curb updated its original post, to let its followers know the pup was rescued. "You are my hero!!!! You saved her," the NYC Free at the Curb account wrote.
Article continues below advertisement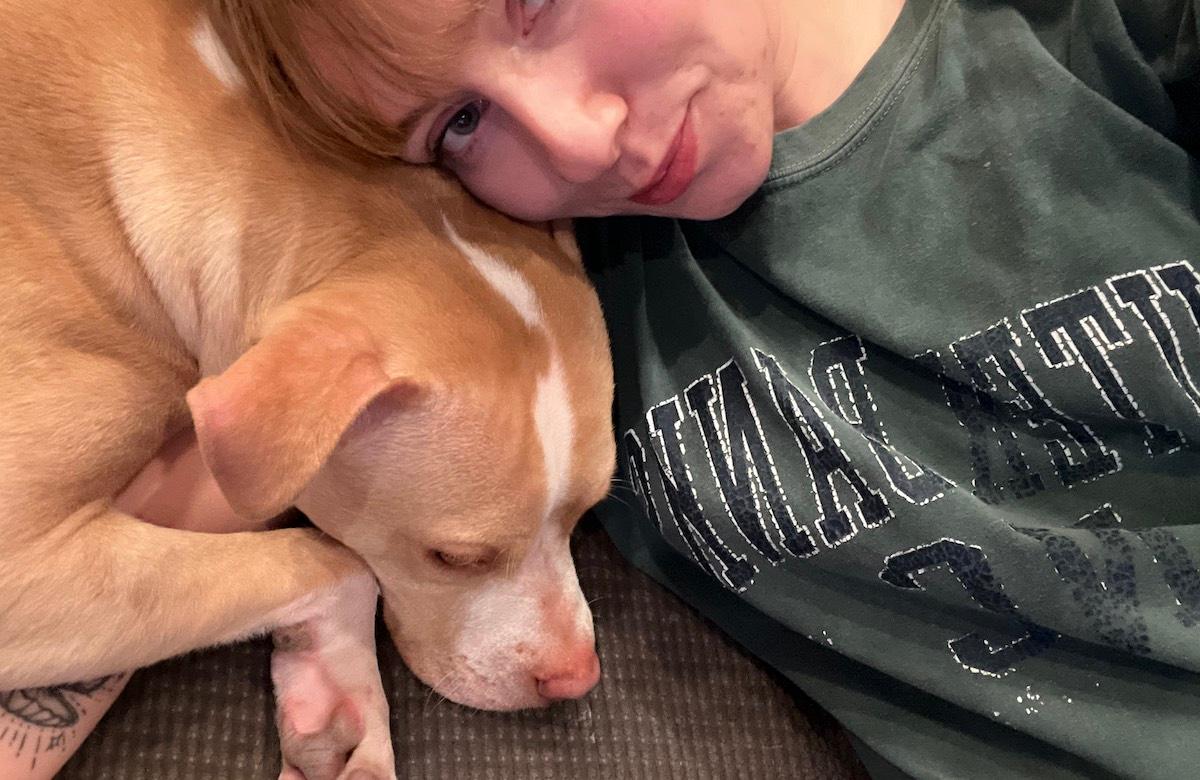 Heather Hamm took the dog home and to the vet, and they're now bonded for life.
The next day, Hamm took her to a veterinarian, who could not find a microchip. The vet estimated Peaches to be about 9 months old, and did not have any health concerns about the dog, as per ABC7 New York.
Article continues below advertisement
"She's so far been adjusting extremely well!" Hamm tells Green Matters on Thursday. "She's super obedient, always looking to me while we're walking, and she already knows basic commands like sit, stay, up, and down. She's always at my step, and lays right at my feet when it's time for bed."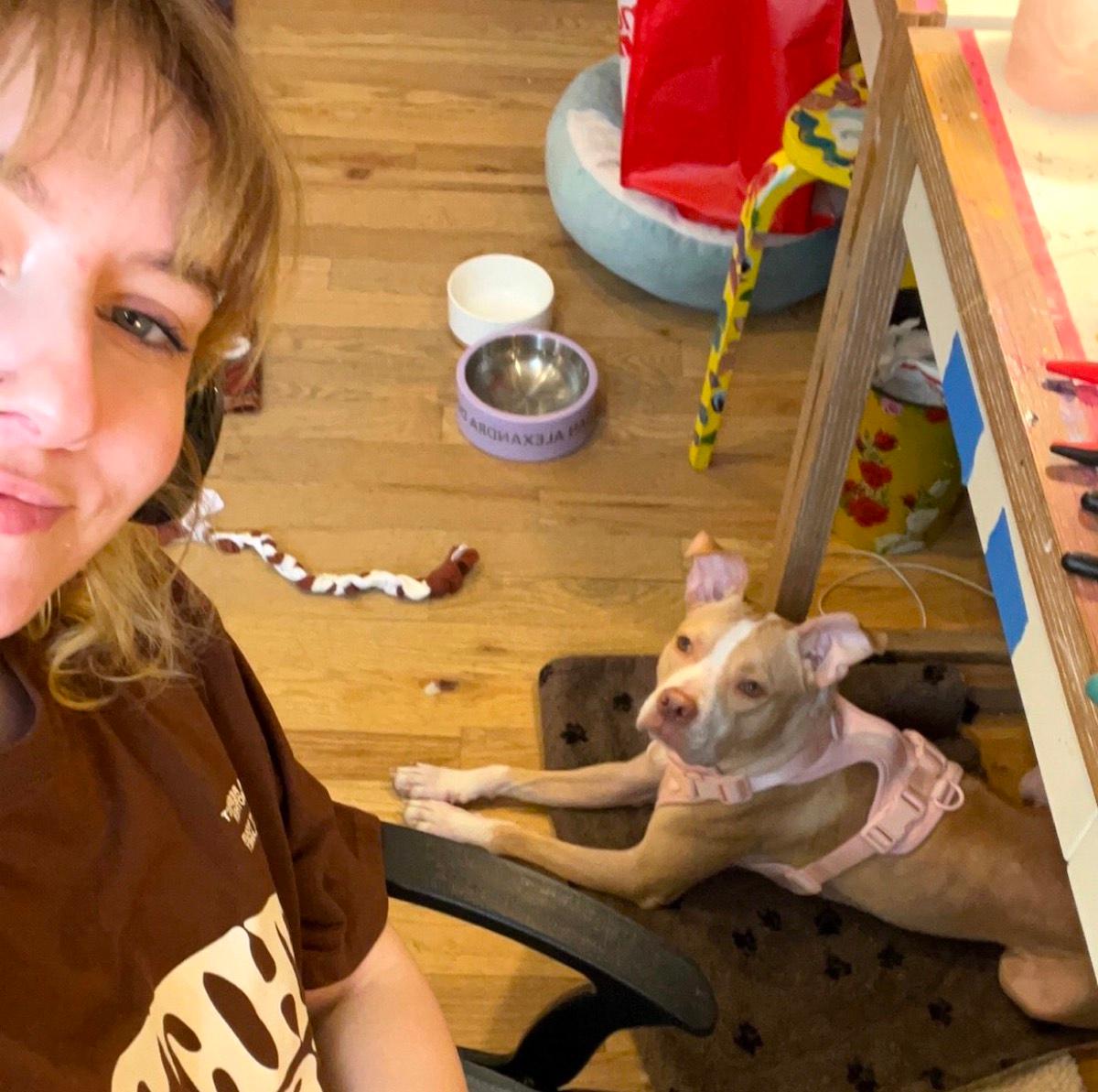 Hamm has already taken Peaches with her to her company's pet-friendly office. "She easily took to every one of my coworkers. She loves them all, and they love her right back!" she tells us.
"It's funny, one of my New Year's resolutions … was to foster a dog or adopt one this year," Hamm adds. "So imagine my surprise when I opened Instagram and Peach was just sitting right there, waiting for someone to do just that!"