The Got Milk? campaign first made its debut in1993 as a way to encourage the consumption of dairy products. Made by an ad agency for the California Milk Processor Board (CMPB), the campaign slogan was licensed to the National Milk Processor Education Program (MilkPEP) in 1995 which over the next few decades, enlisted A-list celebrities—including Beyoncé, Venus and Serena Williams, and Britney Spears—to push its dairy-positive messaging. 
MilkPep abandoned the Got Milk? campaign in 2011 but a "got milk?" iteration of the campaign has been looking to revive the buzz of the original since 2020. This month, a new "got milk?" ad, created by the CMPB, began running in California to promote dairy products. Styled like a music video, the two-minute ad features Mexican-born singer Diego Boneta, who was chosen to represent California's large Latinx population.
The concept is about a fantasy world that's as "real as real milk," where influencers can eat their food before photographing it; movie theaters display honest "Another Sequel (with new actors)" marquees; and other references that point to falsities that make the world a less truthful place. 
Taken together in the context of this being a commercial for milk, the campaign centers animal-derived dairy as "real," by contrast sending the message that alternatives are dishonest, false, and fake. Jennifer Kaplan, an instructor of Sustainable Food Systems at the Presidio Graduate School and the former Director of Sustainability at vegan brand Miyoko's Creamery, says the "real" campaign is disingenuous, at best. 
"The definition of 'real' as a claim is so poorly defined or broad that its real meaning is likely to be misunderstood by the consumer … How is non-dairy milk not 'real'?" Kaplan tells VegNews, citing the Merriam-Webster definition of "real" before adding, "Plant-based and non-dairy milk are 'real,' they are simply not cow's milk." 
While Big Dairy's message of "Got Milk" resonated with the pre-internet set—and this new attempt to market milk incorporates a slew of digital age references—modern day consumers might not be able to ignore the growing body of research and awareness pointing to the many downsides of dairy.  
Milk: does it do a body good?
Much of the Got Milk? messaging of the past cruxed on milk being a beverage that promotes optimal health. Scientific research has since linked the consumption of dairy milk—or lacteal secretions from a mammal which she produces to feed her young—to a higher incidence of diseases, including breast and prostate cancers. Many health professionals agree that dairy is a major inflammatory agent, and consuming it can lead to a host of health issues. 
"Dairy is a highly inflammatory and mucus-producing product. Both of these have negative health consequences," Trista Best, Registered Dietitian at Balance One Supplements, tells VegNews. "Increased mucus can cause illnesses to be more severe than necessary and cause issues with breathing, like worsening asthma. Chronic, low-level inflammation is known to cause cellular damage and that is connected with many of the chronic conditions common to the Western world. Replacing dairy milk with non-dairy alternatives may clear up excess mucus and congestion. This isn't necessarily due to a milk allergy or intolerance, but the natural inflammatory state of dairy."
Lisa Richards, a nutritionist and author of the Candida Diet, agrees with Best, explaining that it takes up to four weeks for dairy to fully exit one's system after they decide to remove it from their diet. "Dairy is an inflammatory substance for us all and also causes the body to produce excess mucus. Chronic, low-grade inflammation leads to poor immune function and cellular damage that ultimately leads to chronic diseases and replication of damaged cells," Richards tells VegNews. "This excess mucus and oil production can create issues for the skin as well in the form of acne. The inflammatory nature of dairy worsens the presence and length of time acne persists, as well."
Dairy allergies are as real as "real" milk 
For reasons related to health, animal welfare, and the environment, the consumption of dairy milk has steadily fallen in recent years while plant-based milks have soared in popularity. In 2020, sales of plant-based milk grew twice as fast as conventional dairy milk, with dollar sales of plant-based milk growing by 20 percent to $2.5 billion, according to a report compiled by data company SPINS.
According to the most recent estimates from the USDA, in June 2022, milk handlers shipped a total of 3.3 billion pounds of packaged fluid milk products, representing a 1.7 percent decrease from the year prior. The USDA estimates that sales of fluid dairy milk have decreased by 1.8 percent since June 2021.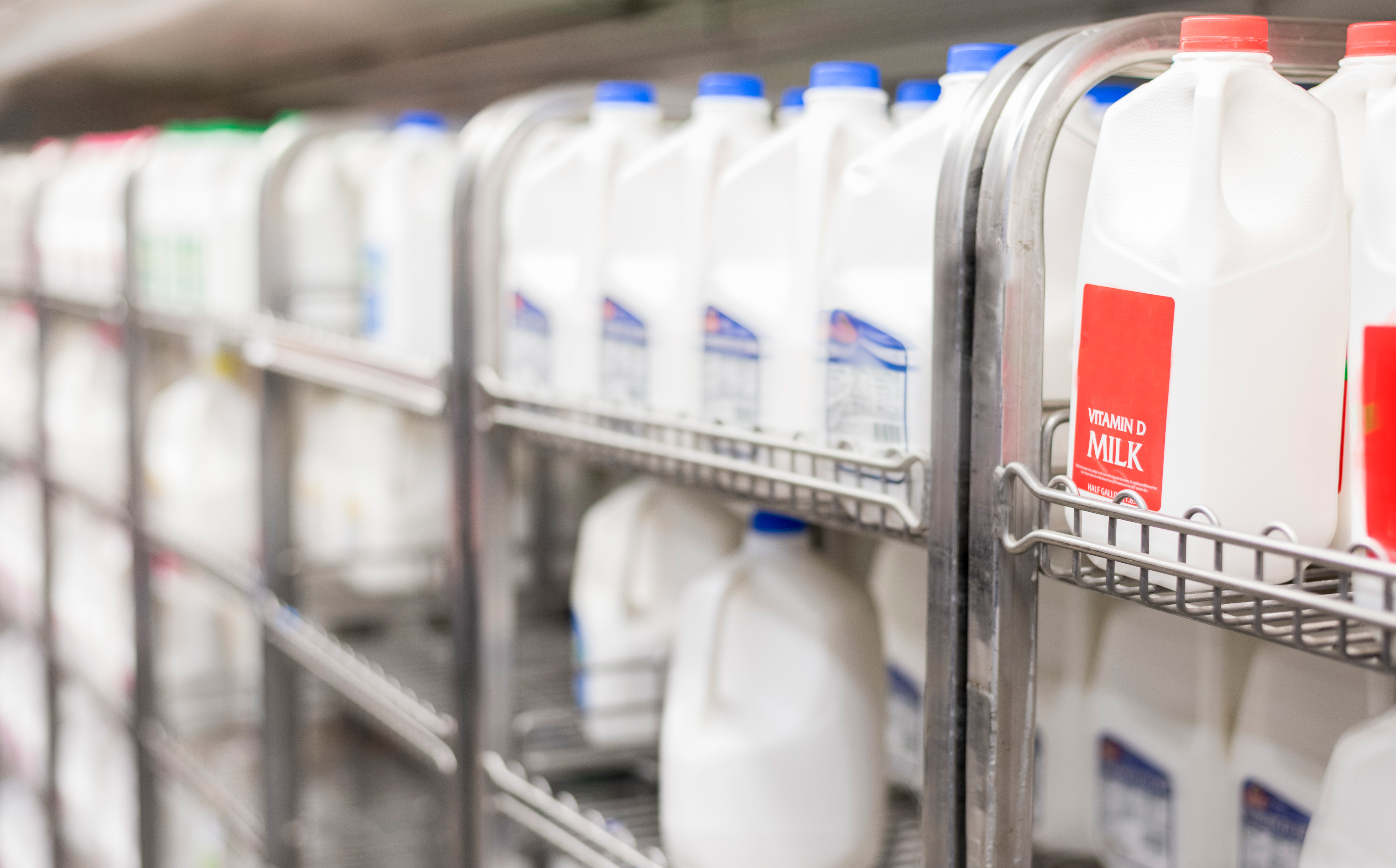 In an effort to sway consumers back to dairy, the new CMPB campaign focuses heavily on sending a message that only "real" dairy is acceptable, a notion that is problematic with people who have allergies. Kathlena Rails, known as "The Allergy Chef," turned her diagnosis of more than 200 allergies and intolerances into a business that helps those allergy sufferers. Rails takes issue with the messaging within the new milk campaign as it applies to people living with allergies. 
"Advertising dairy in an exciting way isn't an issue, however, when we start to use words like 'real' we're implying that all others are fake. The problem with that is that there are millions of people worldwide who can't safely consume dairy. Are they to think their food is fake?" Rails tells VegNews. "This is something that a lot of people struggle with when they're free-from, and one of the things I help people do is shift their mindset and start to see how awesome their options are." 
Another issue is that lactose intolerance disproportionately affects people of color, making this new campaign to push "real" dairy—using a Black actor to sing the ad's lyrics—even more problematic. The National Institutes of Health estimates that up to 80 percent of African Americans, 80 to 100 percent of Native Americans, and 90 to 100 percent of Asian Americans are lactose intolerant.
The group with the lowest incidence of lactose intolerance are people of Northern European descent. As such, advertising dairy milk as the "real" option becomes an issue for non-white children suffering with lactose intolerance. 
"When we tell a child their food is fake over and over again, they doubt the quality of their own food,'" Rails says. "The more we can be inclusive with how we talk about food in general, the better. The world already has enough people suffering from disordered eating and we don't need to keep adding fuel to that fire. All food is real, that needs to be our message."
For the latest vegan news, read:
Merriam-Webster Officially Adds "Plant-Based" and "Oat Milk"
Lawsuit: Banning Vegan Companies from Using "Milk" Is Unconstitutional
Panda Express Launches Beyond Orange Chicken Nationwide