Earlier this year, some headlines implied that a Skittles ban might be heading to California. But, in news that will please big fans of the small brightly colored candies, we now know that is not going to happen. But that said, there are some things you need to know about some of Skittles' ingredients, as well as some other commonly used food additives, which are now set to be banned across California. Let's dive into what's going on (and then we've got a tasty list of vegan organic candy options you need to try—you're welcome).
Which food additives are set to be banned in California?
A new bill was proposed in California that would ban certain potentially harmful chemicals from food products. These included potassium bromate, brominated vegetable oil, propylparaben, red dye No.3, and titanium dioxide. The latter is a white food colorant used in a few mainstream brightly colored candy products, including the US version of Skittles.
We now know that the ban is likely to pass—it's now headed to Governor Gavin Newson for signing—and it will include all of the chemicals listed above, bar titanium dioxide. But even if titanium dioxide had been banned, it wouldn't have removed Skittles from the shelves. Mars, Inc., the producer of Skittles, would have been forced to adapt the recipe to adhere to the new law. This is what other food producers will now have to do for any products containing potassium bromate, propylparaben, brominated vegetable oil, or red dye No.3 by 2027, if Newson signs the bill.
"This is not going to lead to any products or any foods coming off the shelf. This is not a ban on any food or any product," Assemblymember Jesse Gabriel, who helped to introduce the bill, told ABC News. "It is simply going to require companies to make very, very minor modifications to their recipes, which are the same recipes that they're already using in other countries."
All of the above chemicals, including titanium dioxide, are banned in Europe. This is because they are either associated with potential carcinogenic effects in the body or may contribute to other health concerns, including memory loss and reproductive issues. 
Scott Faber of the Environmental Working Group said the bill's passing was a "historic win for consumers." "No one should have to worry about eating toxic chemicals," he added.
All these vegan candy options are free of artificial additives
If you've got a sweet tooth and you're concerned about the potential health impact of artificial additives and chemicals in some food products, the good news is you don't have to miss out on your favorite treats. There are many candy options out there that taste great and rely on safer, organic, vegan ingredients. We've listed a few of our favorites below. 
1 Biona Organic Liquorice Spirals
For candy with an earthy, sweet flavor, you can't beat licorice. These tasty spirals from Biona Organic are totally vegan and made with all organic ingredients, including carnauba wax, molasses, and natural anise flavor.
Get it here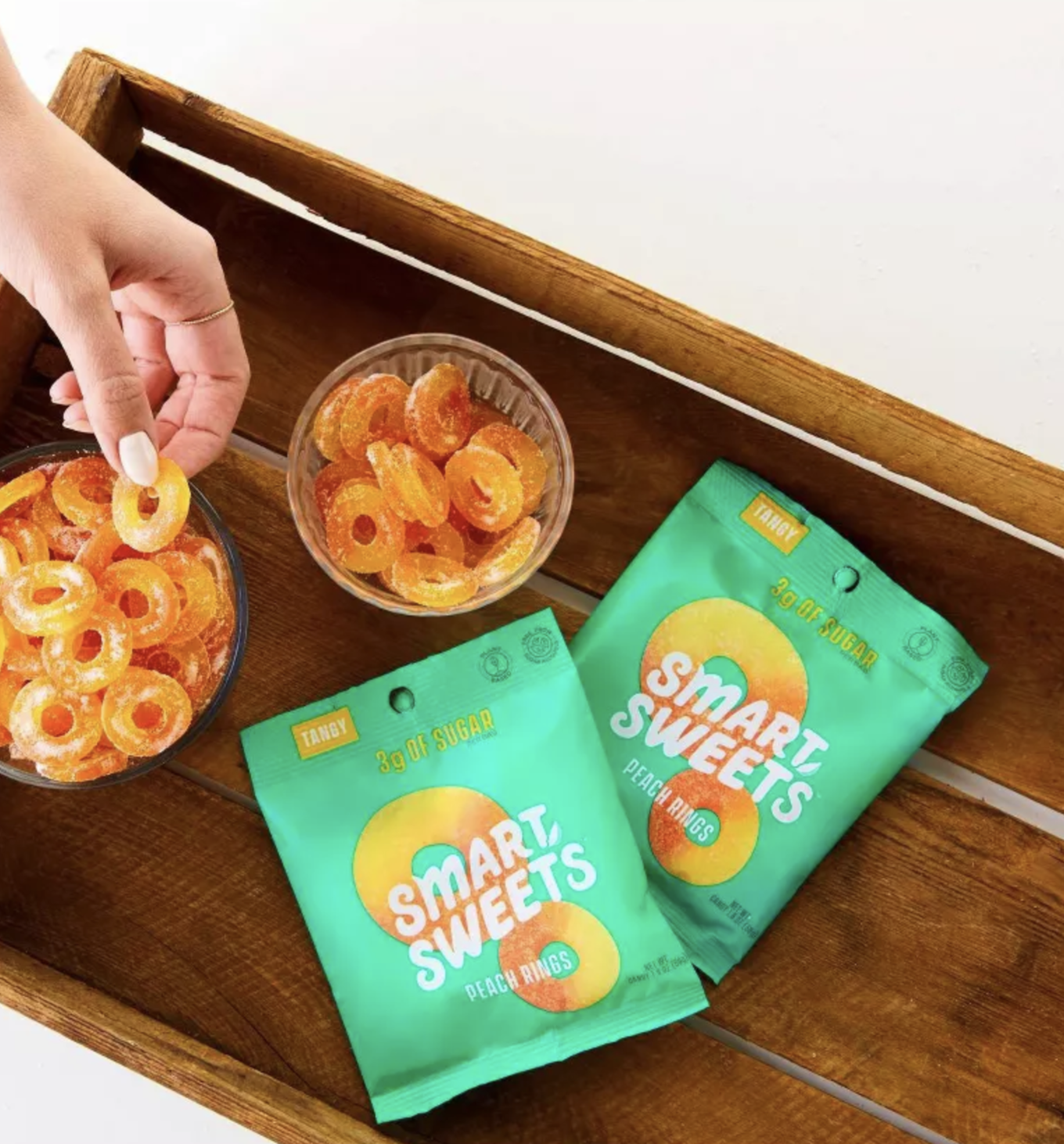 SmartSweets
2 SmartSweets Peach Rings
If you're trying to reduce your sugar intake (or your child's!), then SmartSweets is a great choice. With only three grams of sugar per bag (that's 88 percent less than traditional candy equivalents), these peach rings are tasty, colorful, artificial sweetener-free, and packed with fiber, too. 
Get it here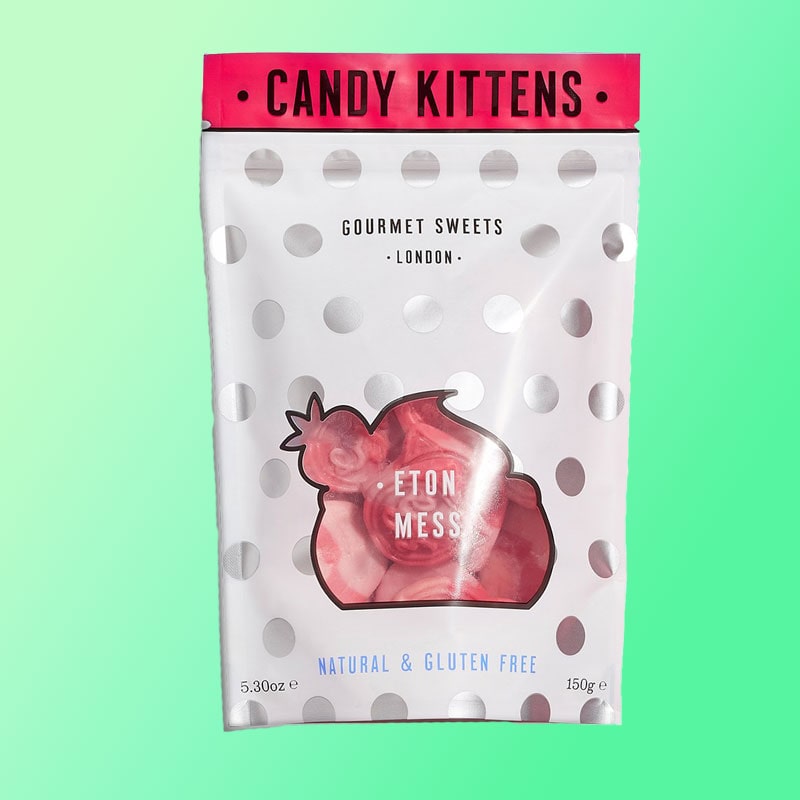 Candy Kittens
3 Candy Kittens Eton Mess
British brand Candy Kittens (which is a certified B Corp) only uses natural flavors in its addictive gummies, which come in a wide range of shapes and colors. Eton Mess tastes like a combination of strawberries and cream, and like all other Candy Kitten products, they're totally vegan.
Get it here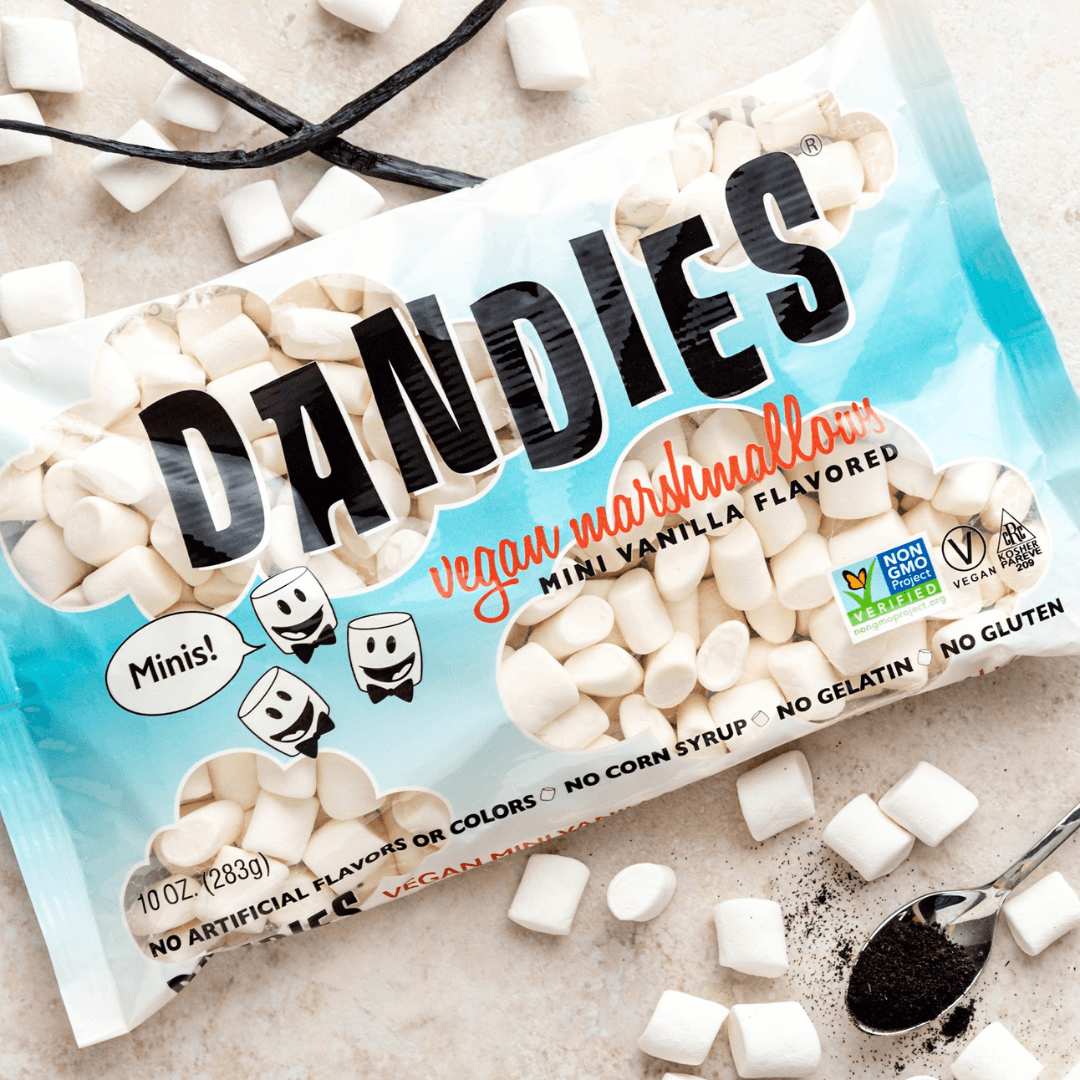 Dandies
4 Dandies Marshmallows
Marshmallows often contain gelatin or artificial flavors or colors, but Dandies proves you can have the same light, fluffy taste experience, without any of these ingredients. These marshmallows are perfect with a hot cup of cocoa, and they're 100 percent plant-based.
Get it here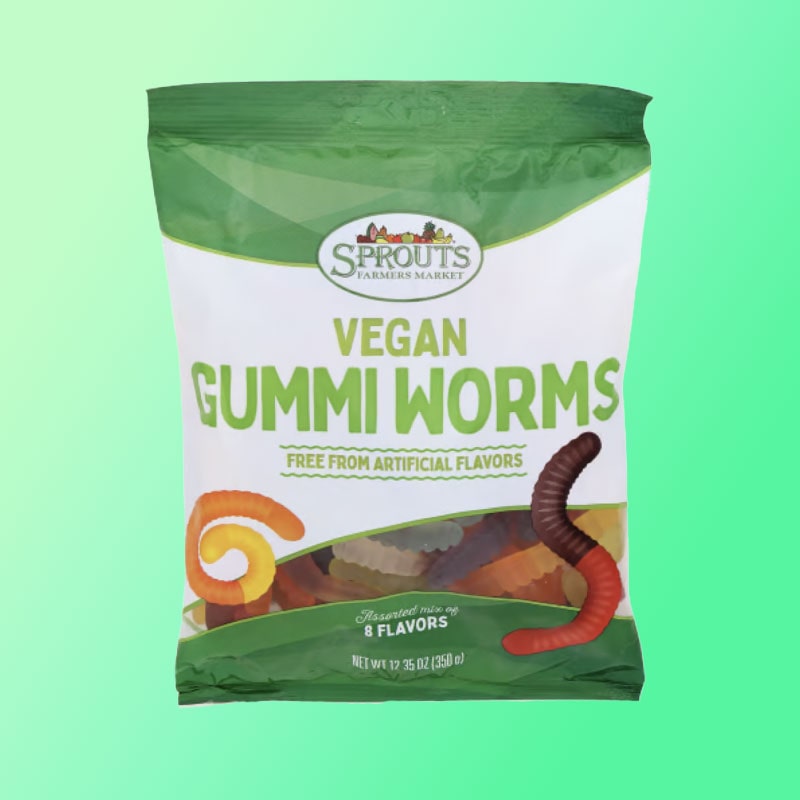 Sprouts
5 Sprouts Gummi Worms
If you're heading to Sprouts Market, consider grabbing a bag of Gummi Worms while you're there, as an extra little treat. These tasty guys are free of artificial flavors and are colored with ingredients like apple juice, pumpkin juice, and spirulina extract. 
Get it here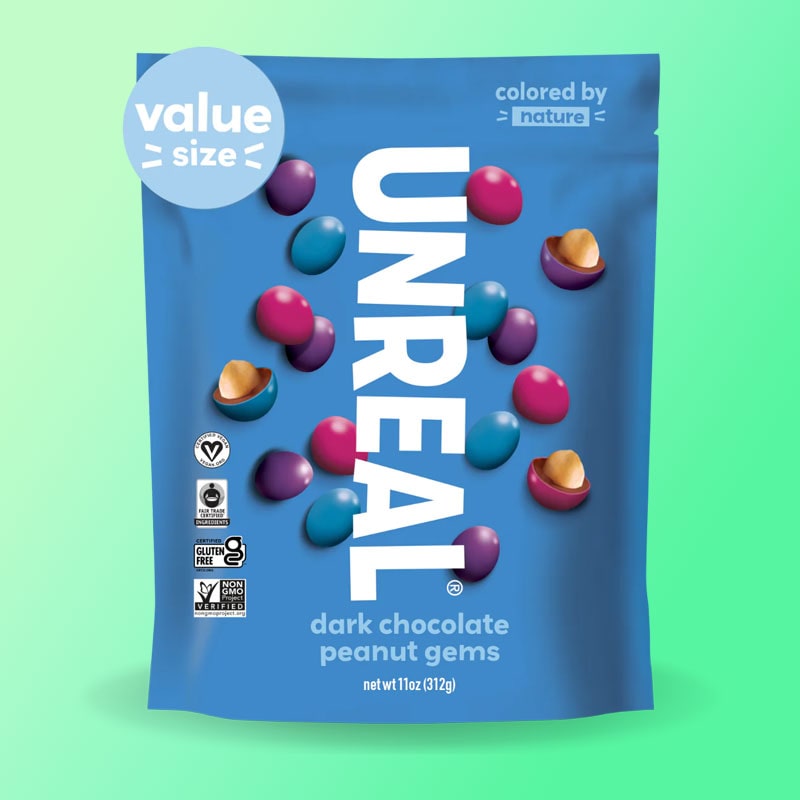 Unreal
6 Unreal Dark Chocolate Peanut Gems
If you're more of a chocolate person, these brightly colored Peanut Gems are just like M&Ms, only they have none of the dairy. Plus, the colors come from natural ingredients, like beet juice and spirulina. 
Get it here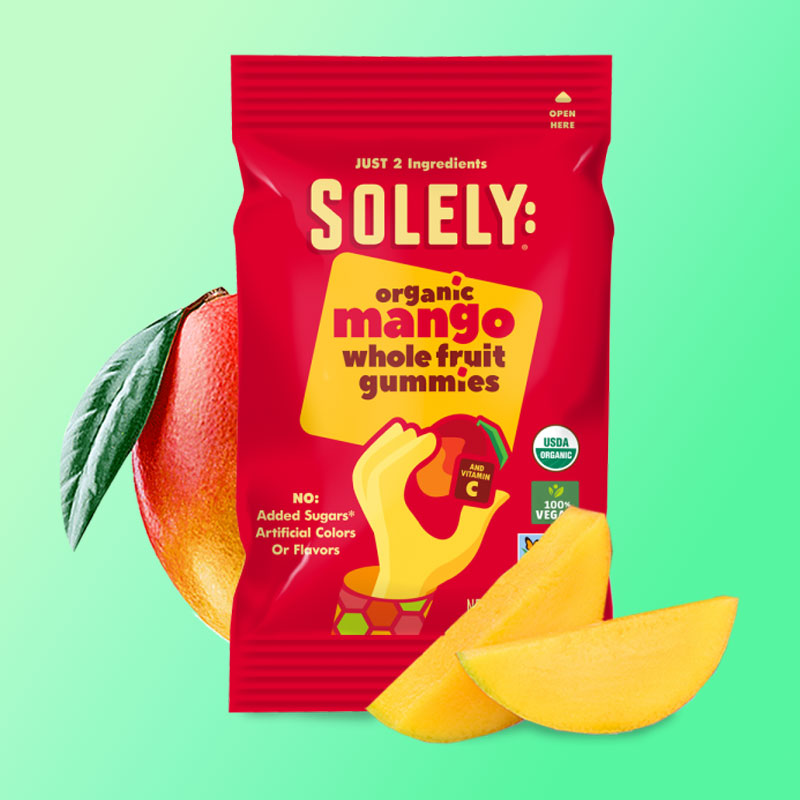 Solely
7 Solely Organic Fruit Gummies
Solely Gummies combine convenience, healthy ingredients, and great taste into one snack with these fruit gummies. They taste just like candy, but they're actually made with whole fruits, like organic mango, guava, and orange, making them perfect for fussy kids who don't love eating nutritious foods (and adults, too!). 
Get it here
For more on vegan candy, read:
Here at VegNews, we live and breathe the vegan lifestyle, and only recommend products we feel make our lives amazing. Occasionally, articles may include shopping links where we might earn a small commission. In no way does this effect the editorial integrity of VegNews.