Last summer, Food Network's The Great Food Truck Race crowned its first plant-based winner, officially cementing Señoreata, a Los Angeles-based Cuban pop-up, into the network's history. 
The competition show's newest season is well underway, and there's a vegan competitor that could follow in the footsteps of Señoreata. Across a series of challenges designed to test culinary skills and business acumen, The Easy Vegan—a plant-based pop-up based in Denver, CO—has consistently ranked in the top three. 
Helmed by founders Taylor Herbert and Alexi Mandolini, The Easy Vegan was born from the pandemic. After Mandolini was laid off, she launched The Easy Vegan with Herbert, her partner in both business and life. For The Great Food Truck Race, the couple recruited friend and Denver-based chef Matt Heikkila to round out their team.
Food Network
Season 16, officially titled "David vs Goliath," pits seasoned industry professionals with established food trucks against talented, up-and-coming rookies new to the food truck business. The Easy Vegan faces off against fellow rookies and food truck first-timers 2 Girls Jamaican Tacos; 4 Hens Creole Kitchen; Khana, which churns out Pakistani fusion dishes; and The Block, an eatery serving up burgers, sandwiches, and seafood dishes. 
Lisa's Creperie; Da Bald Guy, a Hawaiian mainstay serving up the island's cuisine; Puerto Rican food truck D'Pura Cepa; and Italian truck Paisani round out the season's competitors, each competing as industry professionals. 
"This season's unique twist really delivers and while you may think the food truck pros have the advantage, the energy and talent of the up-and-coming rookies make for a level playing field—it's anyone's race," Betsy Ayala, Head of Content, Food, Warner Bros. Discovery said in a statement. 
"Los Angeles is the perfect backdrop this season, there's no city more competitive for food trucks and only the strongest will survive," Ayala said. 
The nine teams face off on this eight-episode season for a chance to win the $50,000 grand prize, and with just four teams remaining, The Easy Vegan is well on its way to victory. 
The Easy Vegan on 'The Great Food Truck Race'
The Easy Vegan is here to win, and it's evident in the food truck's performance. The trio set the tone in episode one, nabbing second place after earning $2,350 in food sales. 
Episode two, as the Paisani team succinctly put it, solidified that The Easy Vegan was a "serious competitor" and considered them a team to watch. The episode brought the teams to a little league ballpark, where the challenge was to impress 150 guests and sell the most food. The winners would receive immunity from elimination and a whopping $15,000, the largest challenge prize in the series' history, as noted by host Tyler Florence.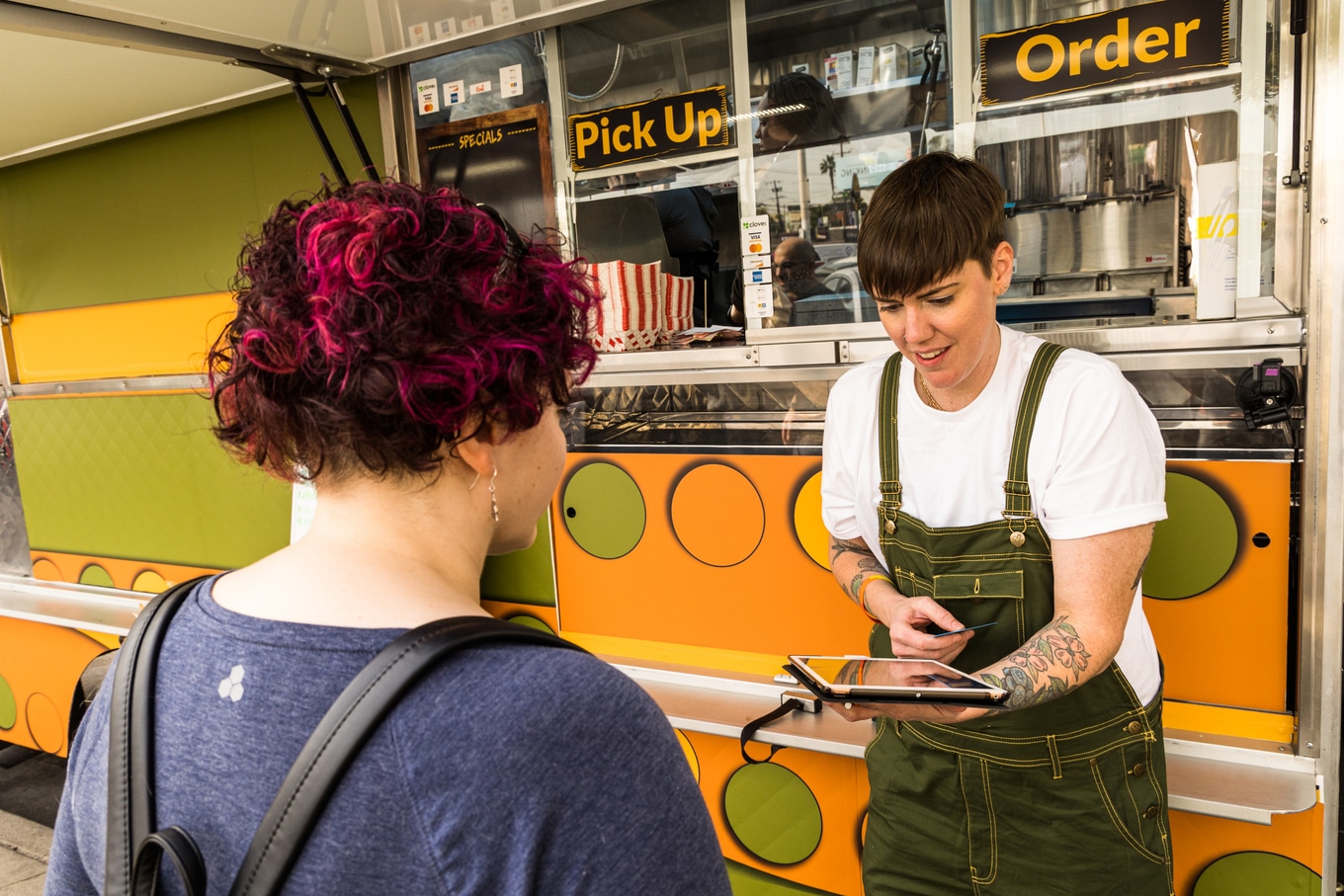 Food Network
With everyone vying for the prize, it was The Easy Vegan who ultimately proved victorious. "We still get emotional rewatching that episode," Herbert tells VegNews. "When [Tyler] announced the challenge, we did not think we stood a chance against the other teams in a ballpark food challenge—you know, hot dogs, hamburgers, kids, but we immediately dropped the negative thinking."
"We didn't lead with the word 'vegan,' because they're kids and they don't care," Herbert continues. "It was a great opportunity to remind viewers that things like french fries and deep fried Oreos are vegan." 
Another stand-out hit? The Easy Vegan's lemonade. Kids flocked to the food truck for a sip of the ice cold beverage, helping the team beat out their competition. 
Episode three saw The Easy Vegan in the top two once more, but episode four served as a wake-up call. With the pro teams earning first, second, and third place, The Easy Vegan fell to fourth, narrowly escaping elimination.
"Our biggest competition [at this point] was everyone," Mandolini tells VegNews. "The podium had shuffled. D'Pura Cepa rose to second place. We were looking around, [thinking], 'Well, everyone is here to play—Lisa's Creperie, D'Pura Cepa, Da Bald Guy."
"Da Bald Guy has a huge following in Los Angeles," Mandolini says. "They were such a big competitor, and we had been thinking about them since the first episode, but at this point, we kind of started looking around at everyone. We were just so impressed."
The Easy Vegan takes first place
More recently, episode five saw The Easy Vegan win back-to-back challenges. First, they impressed celebrity chef and restaurateur Jet Tila during the taste challenge. The teams were tasked with recreating their "origin story dishes," the meals that ignited their dreams of working in the food industry.
The Easy Vegan chose to recreate ramen, as the dish helped Mandolini realize how creative one can be when cooking. The team's creamy shoyu ramen with koji and shiitake mushrooms was chosen by Tila as the winner, earning The Easy Vegan an additional $300 in their till.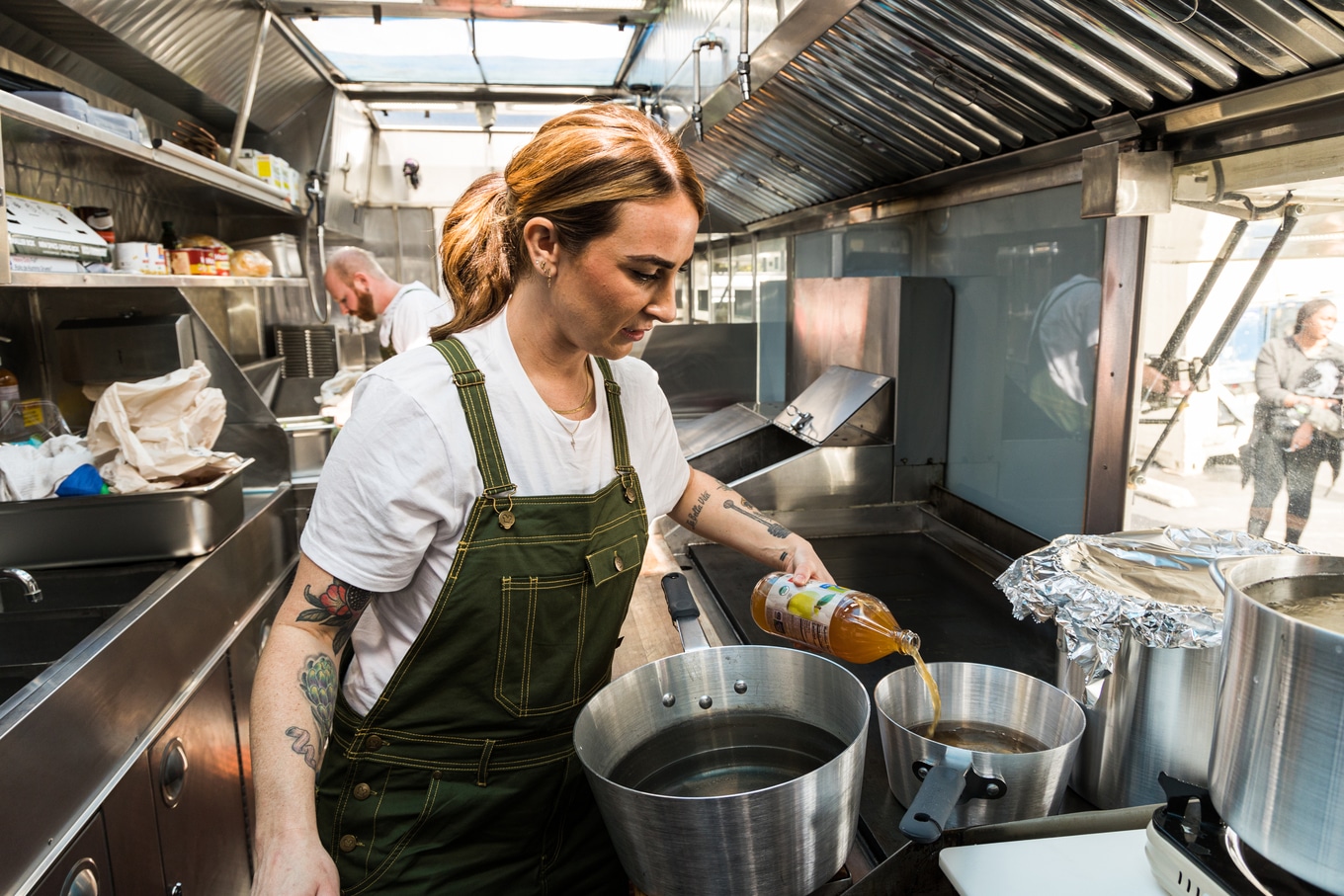 Food Network
The episode's sales challenge brought the teams to a brewery, where their goal was to outsell their competitors. The Easy Vegan's mushroom dumplings served on a bed of miso alongside Japanese sweet potatoes and tempura vegetables were a hit; coming in second only to Khana. 
However, when total earnings were calculated, The Easy Vegan's earlier win gave them the boost they needed to officially win their first leg of the race with total earnings of $2,179.
Despite the struggles of competing in Los Angeles—where foot traffic is sparse, a reality the team wasn't expecting—The Easy Vegan trio relied on each other and their community.
"We felt like our [Denver community] was there with us the entire time we were getting to know the vegan scene in Los Angeles," Herbert shares. "People in Denver who were following our journey would send their [people]." 
"I would get so emotional because somebody would walk up to the truck, introduce themselves, and say, 'Hey, I have six degrees of separation from this person in Denver,'" Herbert says. "We just had so many people rallying for us."
The final three episodes of the Food Truck Race, titled "Family Food" (a plant-based challenge led by Señoreata founder Evanice Holz); "Need for Speed" (a taste and speed challenge); and "Final Showdown" (where $50,000 will be awarded to the winning truck), will air on July 16, 23, and 30, respectively.  
What's next for The Easy Vegan? Mandolini and Herbert are currently working on opening a plant-based restaurant under a new name later this year. In the meantime, they're still popping up at farmers' markets.
For the latest vegan news, read: