In an era increasingly conscious of environmental sustainability, health, and ethical consumption, two industry leaders are challenging conventional food norms. 
Oatly, the renowned Swedish oat milk brand, and Beyond Meat, a prominent pioneer in plant-based meat, have launched campaigns targeting Big Dairy and traditional meat industries, respectively. 
These endeavors not only highlight the companies' commitment to sustainable and responsible products but also their readiness to engage, challenge, and dispel the misconceptions and marketing strategies employed by the meat and dairy industries to keep animal products as the status quo.  
Oatly takes on Big Dairy to "update milk"
Over the course of several decades, dairy milk has been normalized in the collective consumer subconscious through strategic product placements. And not just direct advertisements such as the memorable "Got Milk?" campaign but on-screen in cooking shows, cartoons, and more. 
Oatly
Oatly is giving this narrative a refresh in its new campaign entitled "Update Milk." With a creative twist, the campaign seeks to modernize the representation of milk in culture. 
With its signature tongue-in-cheek marketing style, Oatly's campaign replaces mentions and images of cow's milk in old videos with Oatly's oat milk, signaling that the traditional concept of milk is outdated. This includes clips of the long-running cooking series The Emeril Lagasse Show and 1930s cartoon Thirsty Cats.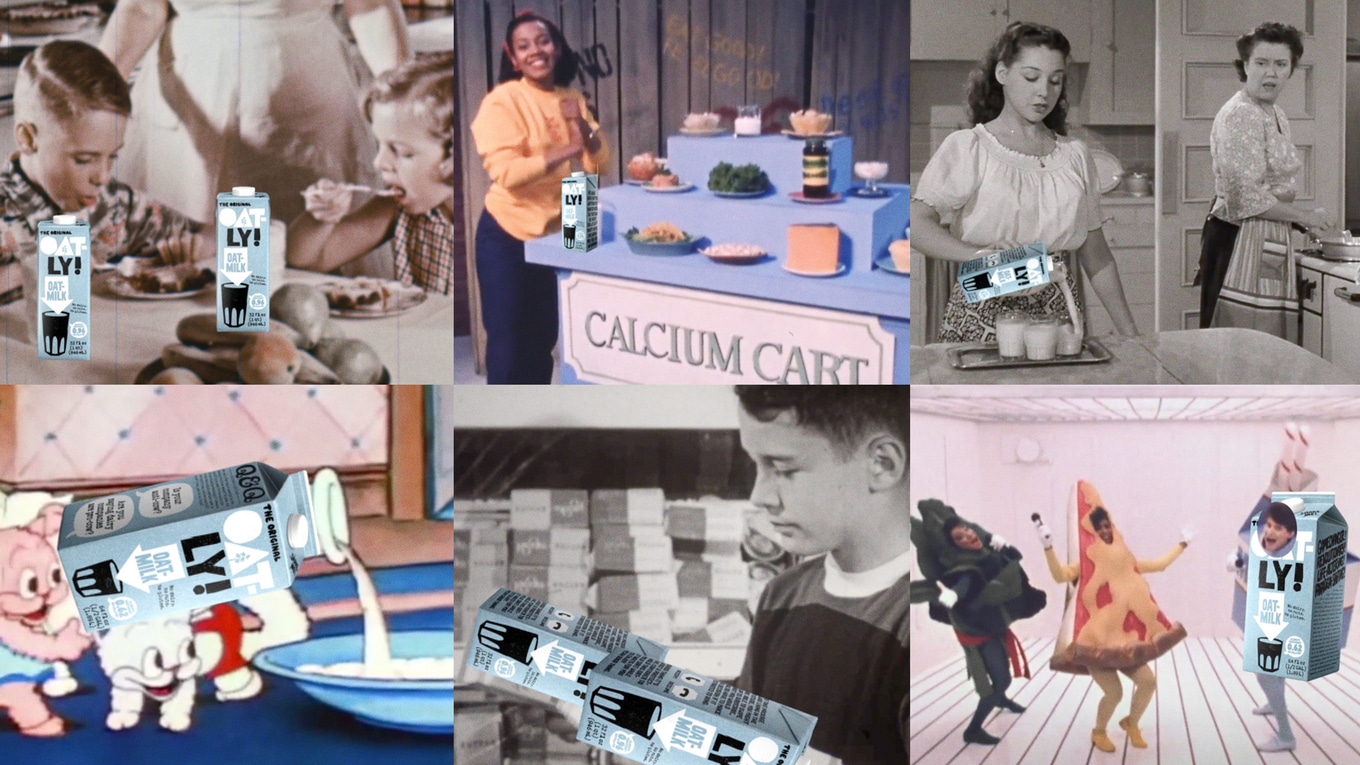 Oatly
"The dairy industry has done a really fantastic job making cow's milk ubiquitous, as evidenced by the decades' worth of content floating around the internet—from movies, to TV shows, to cooking videos, and so on," Emily Keeney, Oatly Brand Director, North America, tells VegNews. "Struck by this, Oatly decided it was time for a much-needed cultural reset."
"We set out to update these antiquated clips to better reflect the concept of milk today in 2023," Keeney says.
Oatly's rationale for this campaign centers on three key points: the antiquity of cow's milk, the evolution of the definition of "milk," and the practicality of oat milk as a seamless replacement for cow's milk. Keeney explains that the cultural ubiquity of cow's milk is now an outdated concept.
"The very idea of what 'milk' is has changed," Keeney says. "Plus, it turns out oat milk is not only just a perfect 1:1 swap for cow's milk in recipes, but in life, too."
Viewers will see this campaign on various channels, including on Hulu, Peacock, and in theaters before the Barbie movie. 
Shifting the dairy industry narrative
This move follows Oatly's previous efforts to challenge the dairy industry, most notably with its response to Big Dairy's controversial Wood Milk campaign.
During Earth Month, dairy lobby group Milk Processor Education Program (MilkPEP) released the "Wood Milk" campaign, featuring actress Aubrey Plaza as the face of a fictitious company milking trees to produce "wood milk." 
The message was clear: only dairy milk is "real" milk. The campaign stirred significant backlash and was criticized as greenwashing, given the dairy industry's high carbon footprint.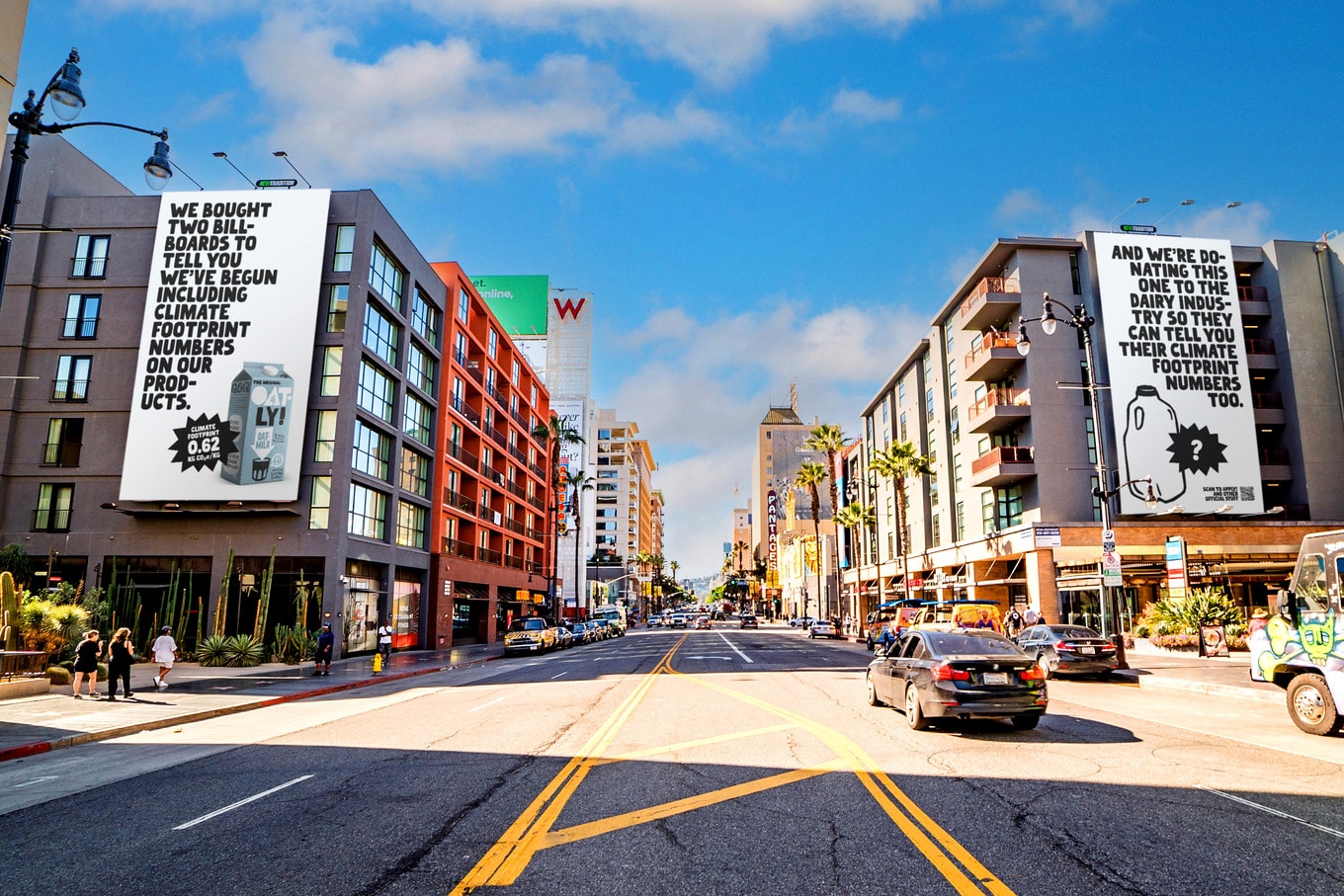 Oatly
Oatly responded by taking Big Dairy to task on its environmental impact, launching a billboard campaign to disclose the climate footprint of its products and inviting dairy competitors to do the same. 
While Oatly is now working to place eco-labels onto its North American products, displaying the CO2e calculations right on its packaging, the dairy industry has yet to respond in kind. 
Oatly's "Update Milk" campaign is a continuation of its ongoing challenge to the dairy industry and encapsulates Oatly's innovative spirit and alignment with modern values. 
It also serves as a call for a cultural refresh and a meaningful challenge to the conventional wisdom—or, rather, strategic product placement—that has long favored dairy milk.
Plant-based meat takes a hit
Similar to Big Dairy, the meat industry and its supporters have exerted control over the narrative of what can and should be considered meat. 
This longstanding dominance has shaped consumer perceptions and market dynamics and the rise of vegan meat alternatives like Beyond Meat presented a challenge that stronghold—something the meat industry took very seriously.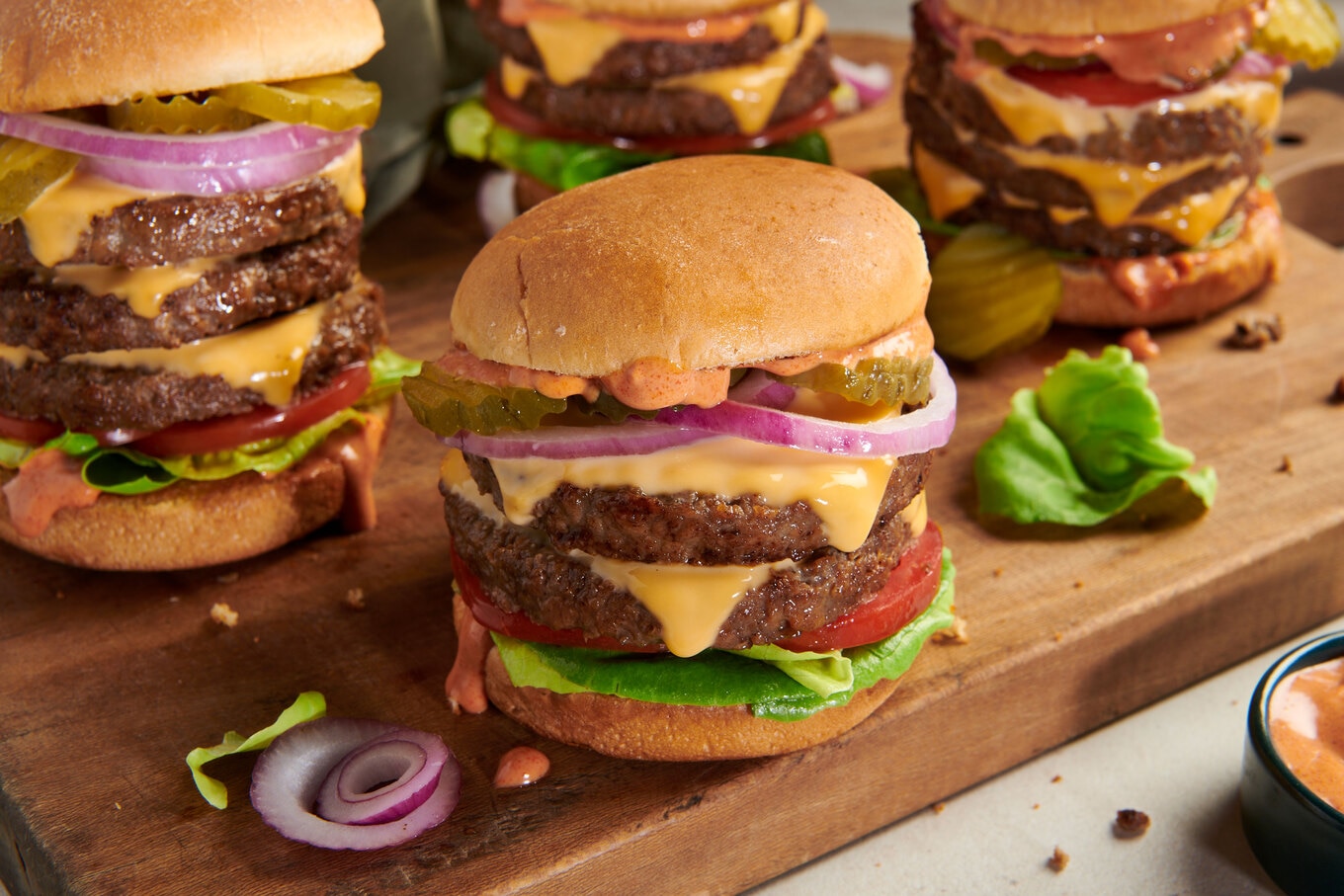 Beyond Meat
As companies such as Beyond and Impossible began coming to market with their flagship "bleeding" burger in the middle of the 2010s, plant-based meat seemed to herald a new era in food culture, focusing on sustainability, ethics, and health.
Reflected in Beyond Meat's historic IPO in 2019, the initial success was meteoric, attracting various audiences from vegans to flexitarians. Meat alternatives appeared to be a game-changer for climate action and animal welfare, particularly during the height of the COVID-19 pandemic, and were well on their way to achieving mainstream acceptance.
However, by late 2022 and early 2023, the narrative shifted. Critical voices grew louder, and accusations of plant-based meat being unhealthy and overly processed began to resonate with consumers. Where did the narrative come from? The shift was fueled by the traditional meat industry's advertising and lobbyists, who effectively capitalized on consumer fears of unnatural ingredients, some of which they themselves created years earlier with highly processed meat products (remember pink slime?).
These narrative-shifting campaigns were backed by groups such as the Center for Consumer Freedom (CCF)—a known malicious organization aiming to disguise itself as a consumer watchdog group. The CCF went as far as running a $5 million commercial during the Super Bowl in 2020 to vilify plant-based meat.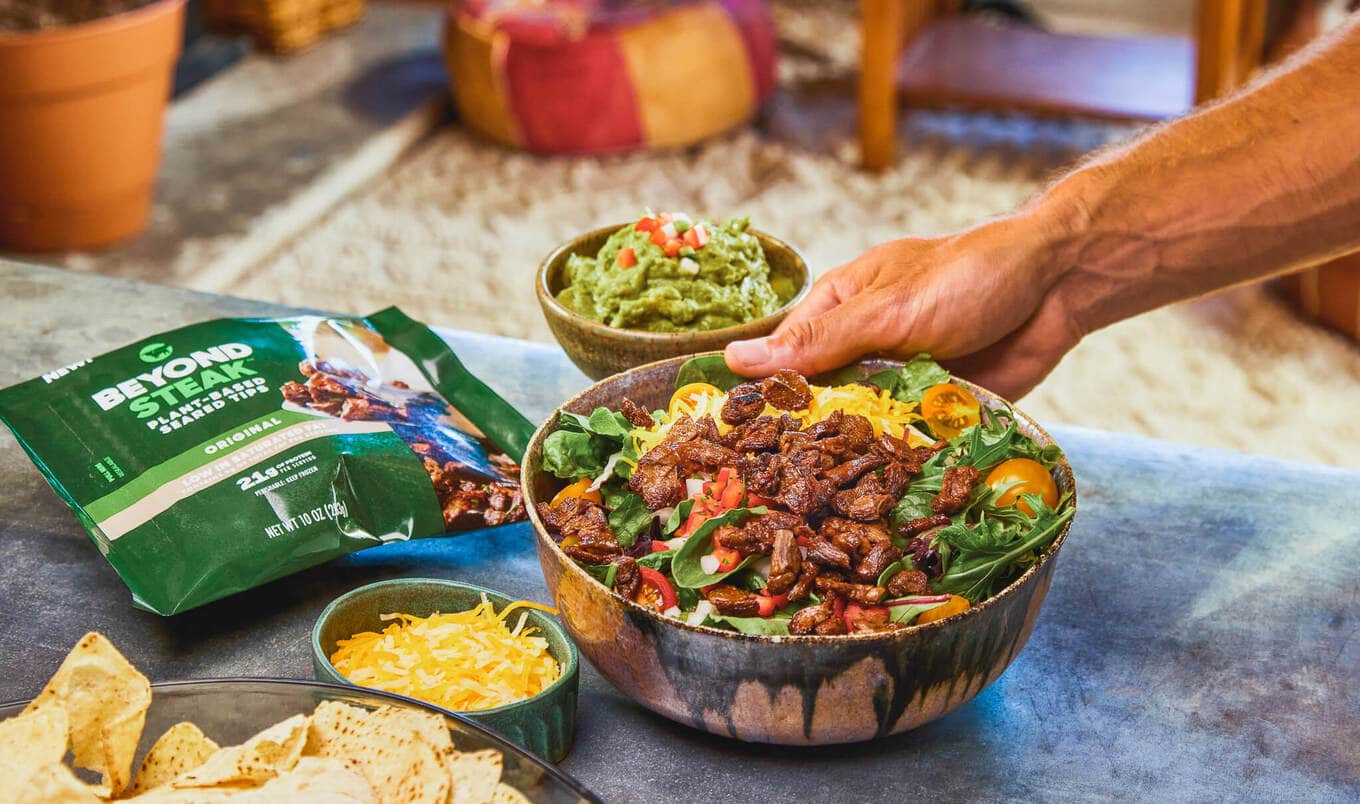 Beyond Meat
Since then, plant-based meat companies have been contending with this misleading narrative by releasing improved products and campaigns to debunk misinformation. However, the public sentiment about plant-based meats seems to have shifted. 
This month, Beyond Meat reported a 30.5 percent decline in Q2 revenue, resulting in a lowered full-year forecast of $360 million to $380 million in revenue this year.
Factors cited for the decline? Tough comparisons to last year's Q2, perceptions of its products as unhealthy, and a 40 percent drop in US revenue. 
Beyond Meat takes on Big Beef
In the context of this tide of misinformation, Beyond Meat has launched a new marketing campaign, "There's Goodness Here." This multi-phased initiative emphasizes transparency, nutrition, sustainability, and ethical considerations.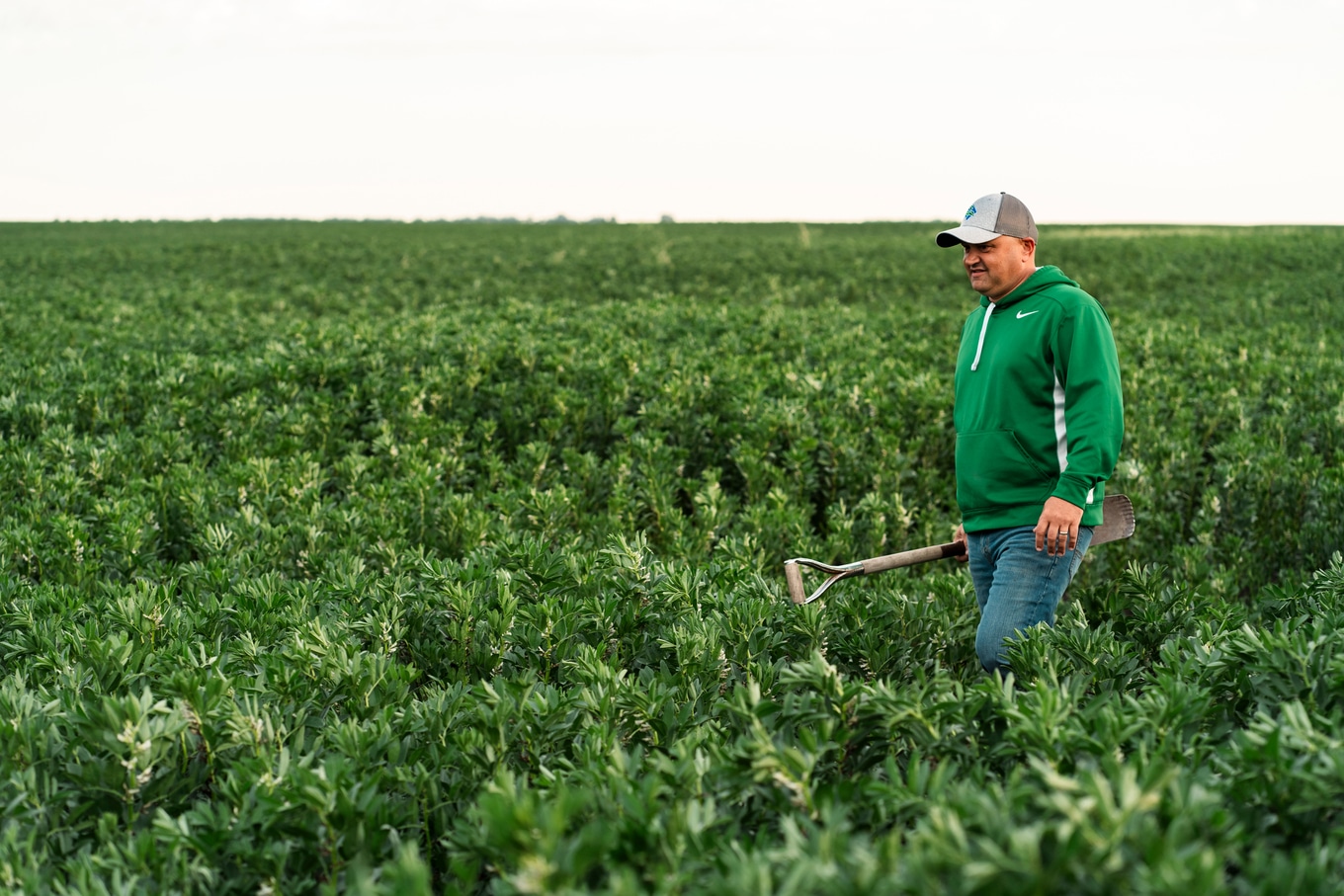 Beyond Meat
The first phase introduces a farmer from Munich, ND, who grows fava beans for Beyond Meat, highlighting the key ingredient in its vegan steak and the benefits of nitrogen-fixing crops. It takes a direct approach to confront consumer concerns about unnatural ingredients by emphasizing the wholesome and eco-friendly nature of Beyond Meat's products.
"We're incredibly proud of what goes into our products and how they're made and are excited to be launching this new campaign to bring consumers along for that journey so they too can feel good about the protein they're feeding themselves and their families," Akerho "AK" Oghoghomeh, Senior Vice President of Global Marketing at Beyond Meat, said in a statement.
"When choosing our plant-based meats, consumers are choosing protein that's been created with intention—the intention to be more nutritious, to be more sustainable and to be more humane than its animal-protein equivalent," Oghoghomeh said. 
The campaign also aligns with certifications from credible organizations such as the American Heart Association and builds on research partnerships like the one with the Stanford University School of Medicine. 
And "There's Goodness Here," is more than a marketing campaign—it's a counteroffensive against an orchestrated smear campaign by traditional meat industries. Emphasizing transparency, nutrition, sustainability, and ethics, it seeks to restore the tarnished image of plant-based meat.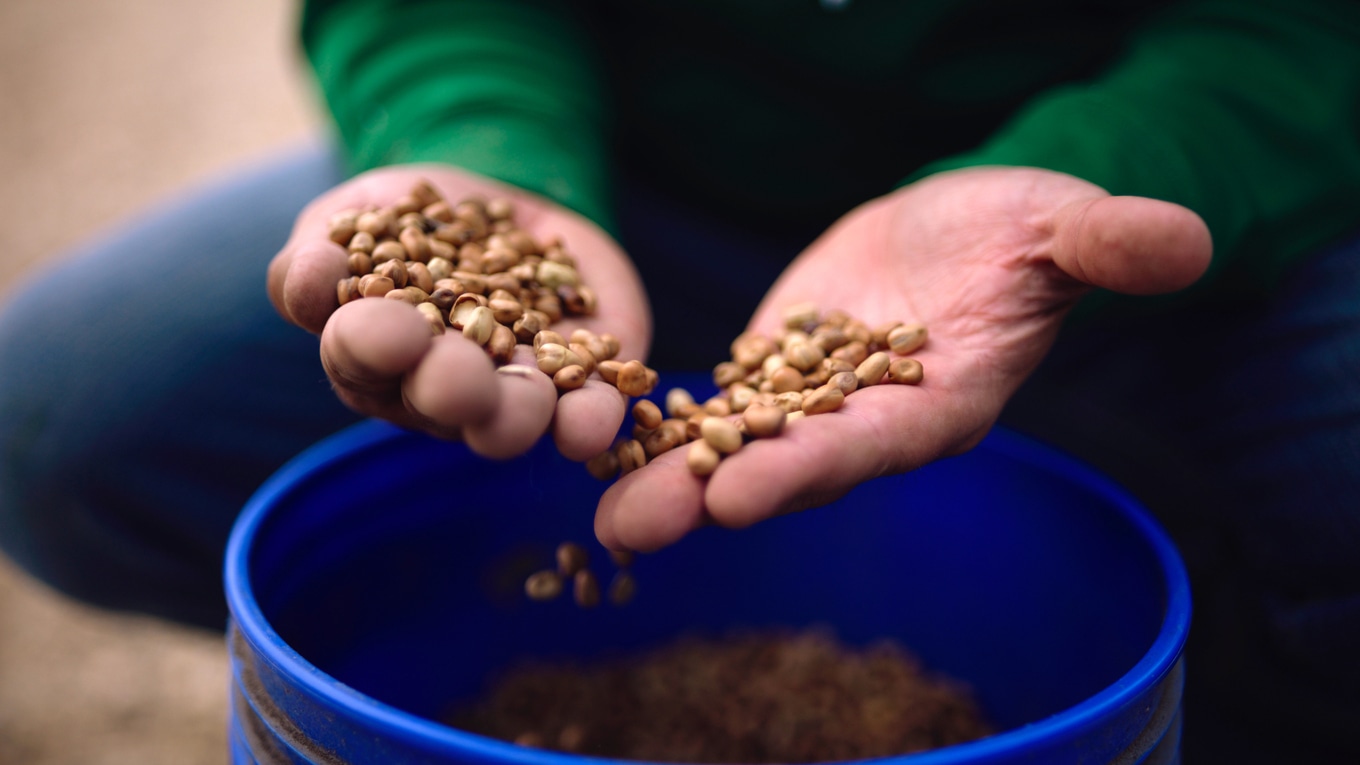 Beyond Meat
"We know there is a lot of noise surrounding the plant-based meat category, and as a leader in the space, it's our job to educate consumers on the facts so they can see there's goodness here that they will be inspired to be a part of," Oghoghomeh said.
These clashes between Beyond Meat and the traditional meat industry, and Oatly and Big Dairy, reflect broader questions about food ethics, environmental sustainability, and how information is disseminated to the public. And these David versus Goliath battles are likely to continue, with profound implications for the future of food.
For the latest vegan news, read: