Janessa Steenberg is Italian, vegan, and someone who had a long career in business administration — so it really shouldn't be a surprise that she put those three meaningful aspects of her life together to start a vegan Parmesan cheese company, Panacheeza.
Steenberg has been eating plant-based since around 2009, when "it was extremely difficult to find plant based Italian products," she tells Green Matters.
Article continues below advertisement
"About five years ago, I was so frustrated not having Parmesan anymore," she recalls. "I saw a commercial for spaghetti with red sauce, and they topped it with Parmesan, and I bolted off of my couch. I said, 'This is enough.' I went straight into my kitchen."
At that moment, she developed her own recipe for vegan grated Parmesan, using just three ingredients.
Article continues below advertisement
After years of sharing her vegan Parm with family and friends, on May 15, 2023, Steenberg officially launched Panacheeza out of Rochester, N.Y. As of launch, Panacheeza was only sold in plastic jars; but soon after, Steenberg also rolled out 1-pound bags of the product that can be used to refill the jars, in an effort to reduce packaging waste.
Article continues below advertisement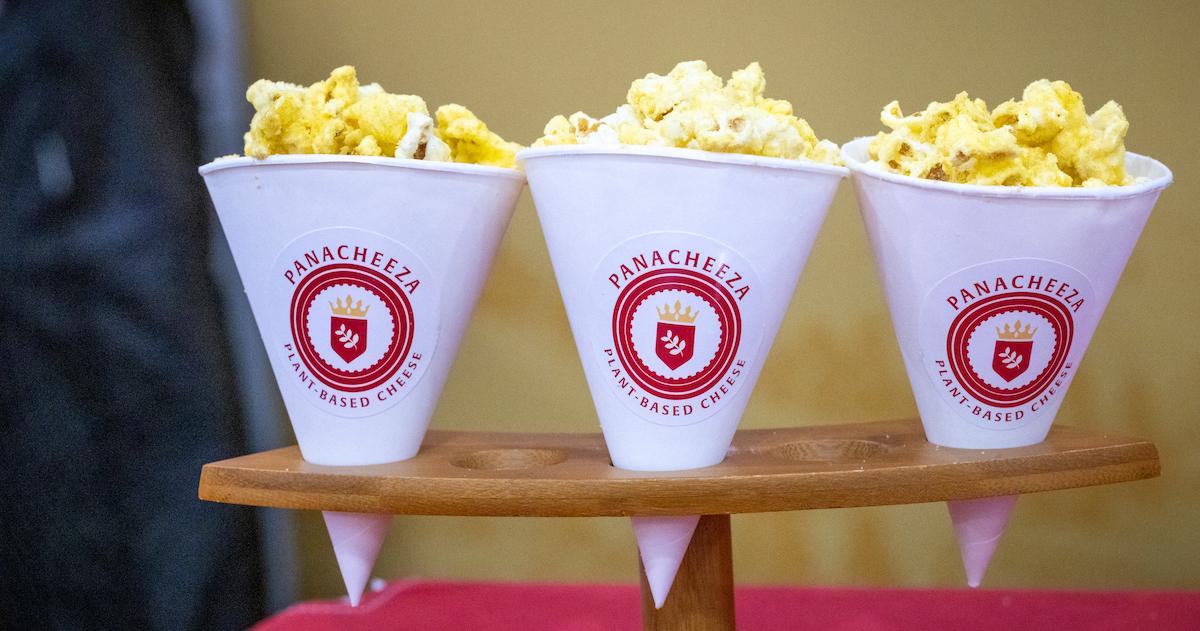 I attended the Plant Based World Expo at New York City's Javits Center on Sept. 8, 2023, where I got to try Panacheeza's Parm — and I was absolutely blown away. Immediately curious to learn more about this delicious product, I interviewed Janessa Steenberg on the spot for Green Matters Greenovation series — check out our Q&A below.
This interview has been lightly edited and condensed for length and clarity.
Article continues below advertisement
GREEN MATTERS: What's been the biggest challenge in building Panacheeza?
JANESSA STEENBERG: I thought it would have been hard. I never thought I could figure out how to create a food business. I'm in business administration. But being in the plant-based world, it's a welcoming place to be, because everyone who's in it wants to see us succeed. So it just keeps growing.
The toughest part might be getting it into people's mouths. I want to share it with everybody. Or, maybe the hardest part is trying to keep up with the demand, because the excitement around the plant-based industry is wonderful.
Article continues below advertisement
GM: What motivates you to work on this company?
JS: The proof of concept — having people taste it, and their responses. It's not vegans that are driving this market, like vegans like myself. It's flexitarians, it's people who are already meat eaters, but they're trying to be either a meat reducer or to just infuse more plant-based products into their diet. Their responses are when I know that I've nailed it. The majority of our consumers are meat eaters.
GM: What's next for Panacheeza?
JS: We only have one flavor for now. We wanted to just get to market.
We're making artisanal flavors like truffle, cracked black pepper, hot and spicy. We're going to do some collaborations with some well-known spice companies. We're going to make a spread out of it, and a brick.
Article continues below advertisement
GM: What's your vision for the future of the plant-based food industry? What trends would you like to see take over?
JS: Being plant-based for these last 14 years, I would have to really try hard to seek out my products, I'd have to go to special places. I had a special little corner in the grocery store. And only this year, within the last few months, I have gone into some large grocery stores, and seen plant-based products placed throughout the store, instead of in one corner. So what I would like to see is more accessibility to plant-based products. And I think we're gonna get there.
GM: What's been the most rewarding part of building the company?
JS: The most rewarding part has been the organic growth of this product. I grew up in an Italian family, cheese and cooking and meat was everything. And I would sneak into the kitchen and eat a spoonful of parmesan, no joke.
I always thought I would have to work, like I did, in business administration. Creating this product, to fulfill my own need, and actually creating a business out of it and being able to share it with the world feels amazing.
"Greenovation" is a series from Green Matters that invites founders of companies that are not only disrupting industries, but also trying to change the planet for the better.