What if there was a matchmaking platform, akin to Tinder or Bumble, but instead of singles swiping right for a chance at romance, plant-based food developers were matched with optimized, high-quality ingredients? At food-technology company Equinom, this isn't an unrealized dream of the future—it's the company's current day-to-day reality.  
Founded in 2012 by Gil Shalev, PhD, Equinom combines agricultural know-how with artificial intelligence and culinary expertise to develop high-quality, non-GMO ingredients optimized to meet the needs of plant-based food developers. And it's all thanks to the company's patented Manna technology. 
The Manna Ingredient Platform uses artificial intelligence to analyze over 50 million breeding combinations within Equinom's massive seed vault, which houses more than 250,000 seed varieties. The matchmaking process first begins with food companies, who submit their requests for plant-based ingredients along with the sensory traits they aim to create with their final food products (such as intensity of flavor and color). After analyzing millions of breeding combinations, the Manna platform recommends seeds to cross-breed that will result in the desired traits specified by food companies. 
Equinom
The recommended seeds are then bred, and Equinom works with farming partners to plant, test, and harvest its crops. Ingredient processors are then called in to transform Equinom grains into food ingredients. Due to the high-quality nature of the seeds used, the optimized Equinom grains require minimal processing before they're converted into food ingredients. Ultimately, this results in superior, non-GMO ingredients that food companies are able to utilize to create high-quality, plant-based food products. This process doesn't just result in products that consumers will love—they also come with a number of benefits for both consumers and the planet.
"As a result of minimal processing, Equinom ingredients tend to have more beneficial nutrients intact (e.g. fiber) and less detrimental ones (e.g. sodium)," Shalev tells VegNews via email. "They also have a much better carbon footprint, using no chemicals and significantly less water and energy in their production." 
And while Equinom's Manna platform is better for the environment than costly, resource-heavy trial-and-error breeding—which often takes years before ideal breeding combinations are found—it also helps put money back into the pockets of food developers, and, in turn, consumers. "Since processing is costly and constrains supply, Equinom ingredients can be more affordable, too," Shalev says. "Ultimately, Equinom is bridging the gap between the farmers and food manufacturers by developing superior crops that are optimized for food from the source and produce more delicious, nutritious, accessible, and affordable non-GMO ingredients that meet consumer needs for plant-based foods."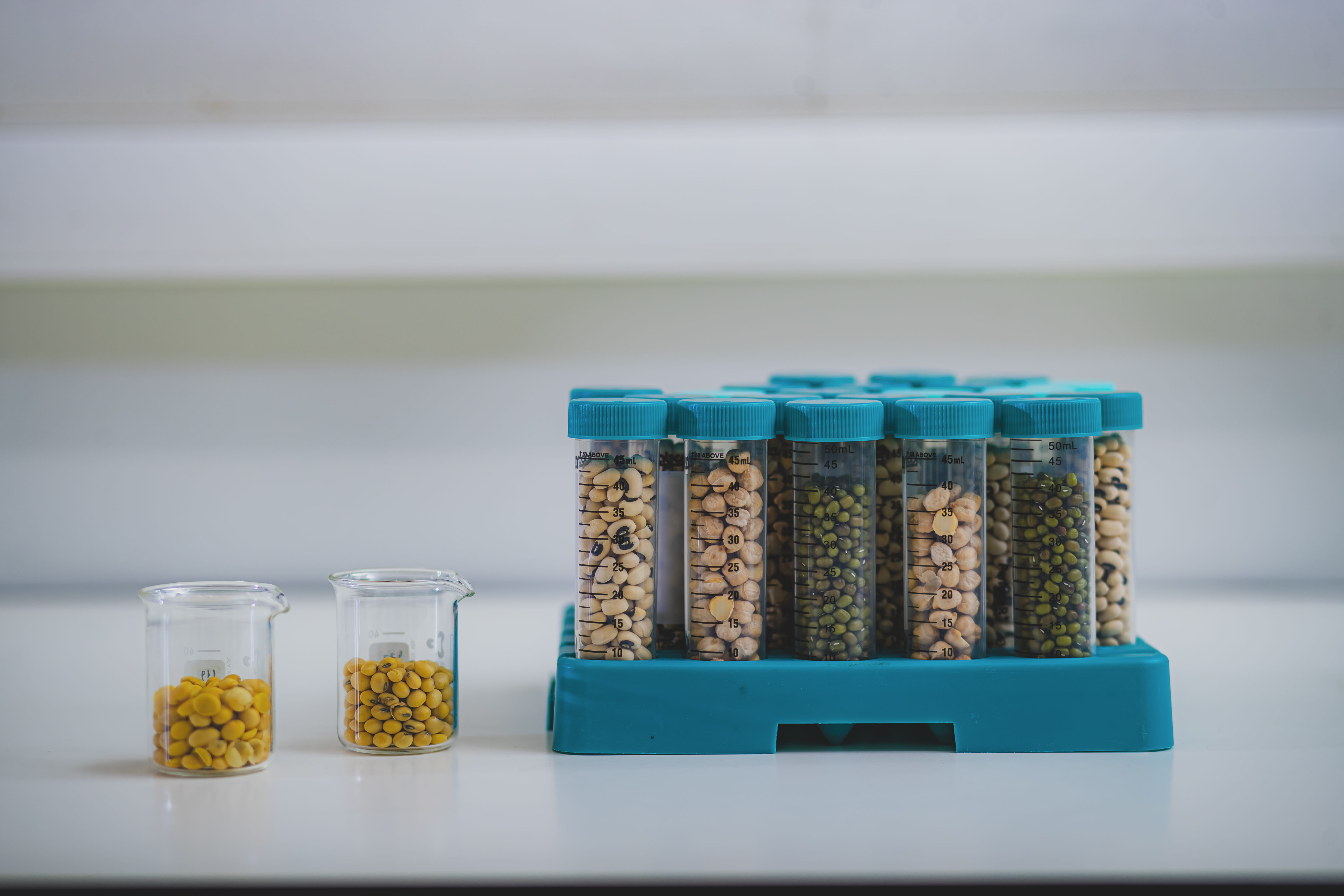 Equinom
Improved plant-based foods come to market 
Traditionally, optimizing crops for improved food ingredients takes years of trial and error. With its Manna platform, Equinom is helping companies improve upon new and existing products through the power of artificial intelligence. Among such products is PepsiCo's Sabra hummus. 
After Sabra reached out to Equinom requesting high-quality sesame that could be locally grown and machine harvested, Manna identified the biochemical traits of sesame seeds needed to meet the brand's additional sensory requirements. After the company's Manna platform made its recommendations for crossbreeding, Equinom bred several lines of sesame seeds. Sabra's research and development team then tested each line and selected the variety that best fit its needs. Just as Sabra had requested, the chosen sesame seeds were then grown and machine harvested in the US before being milled into paste. The superior sesame seeds were then used in Sabra's hummus. While this hummus is not on store shelves at the moment, Equinom was able to develop a customized, ready-to-use seed in alignment with Sabra's specifications within five years.
Last year, United Kingdom-based Meatless Farm partnered with Equinom to source food ingredients with increased protein content. Shortly after, the food-technology company partnered with Black Sheep Foods—makers of the world's first vegan lamb—to utilize Equinom's pea protein in its product development. 
Shalev shared that Equinom will be ready to harvest its North American pea crop in just a matter of days and the company recently announced its partnership with Peterson Farms Seed to produce seeds of Equinom's yellow peas. These crops will soon be used by leading food companies, which rely on pea protein to create products such as plant-based beef, chicken, and more.
"[This is] an exciting step toward commercializing our ultra-high protein, non-GMO varieties of yellow pea and potentially other crops down the road," Shalev says.  "Pea has a lot to offer: [it's] non-allergenic; naturally high in potassium, iron, and fiber; and restores nitrogen—which is a great fertilizer for other crops—to the soil where it's grown." 
In addition to pea, Shalev predicts plant-based protein sources such as chickpeas and fava beans will continue to grow in popularity. "In addition to those, Equinom has active breeding programs to develop optimized plant-based proteins with other source crops, including mung beans and black-eyed peas," he says. "The company expects to commercialize these ingredients in the coming years." 
From roses to plant-based meat?
With headquarters in Israel and the United States, Equinom currently runs operations in 20 countries. While the food-technology company's expertise has always been breeding source crops and transforming them into quality ingredients for food applications, it wouldn't be here today without roses.
While completing a PhD in plant genetics, Shalev dreamed of creating roses that could last for a long time on display in vases (like roses sourced from florists) while retaining the rich scent of backyard roses. In his research, Shalev utilized artificial intelligence to find the perfect combination of rose varieties to develop roses with his ideal traits. While developing this method, Shalev ultimately realized it could also be used for food.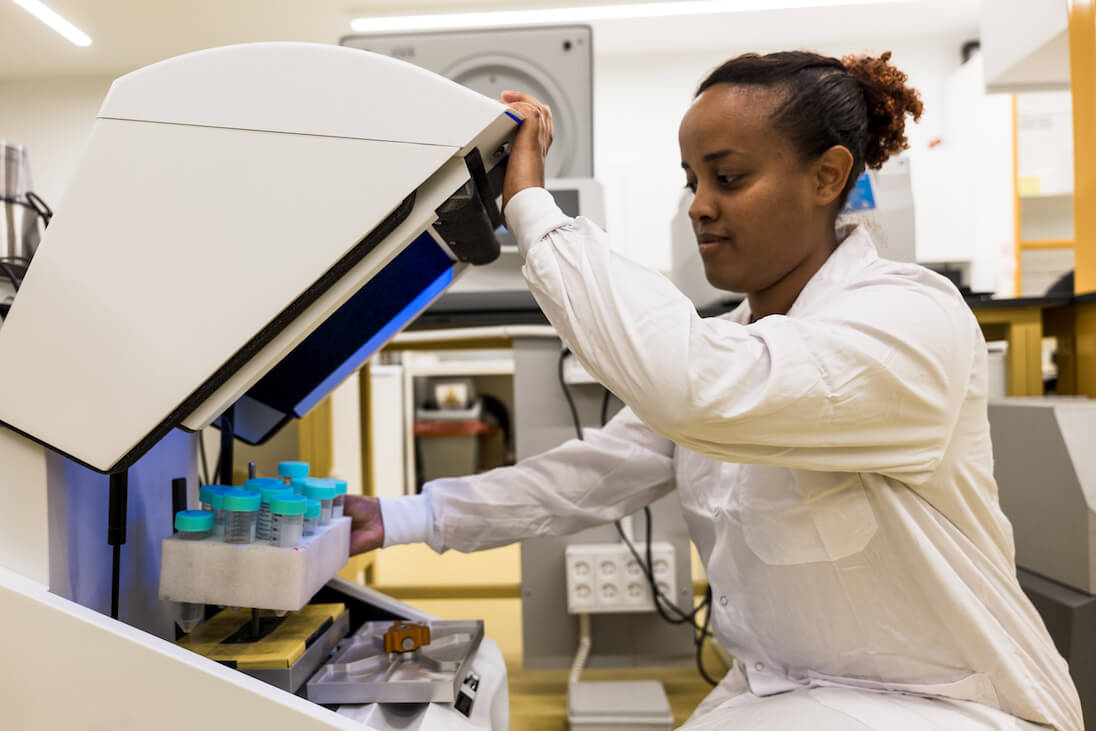 Equinom
In 2012, this became a reality. And in 2018, after working on breeding and optimizing source crops for years, Shalev realized food developers were unable to explain the biochemical properties of the ingredients they needed. Essentially, while food companies could identify their needs in terms of function and traits (such as water absorption and mild flavor, respectively), they were unfamiliar with the biochemical properties that would result in their desired traits. 
"Food developers rely on anecdotal experience and much trial and error to hone in on a successful ingredient for any given application," Shalev says.  "We saw an opportunity to provide metrics that correlate to desired functional and sensory traits to make the application development process more efficient and turnkey—and that unique ability remains a core differentiator for us today."
For more vegan news, read:
South Korea's New Vegan Mushroom Startup Was Born From Hyundai
Burger King Ventures Into Plant-Based Chicken Sandwiches
Food Network Champion Priyanka Naik Is Home Bistro's First Vegan Chef