When high fashion comes to mind, cashmere is likely at the forefront of your thoughts.
The lavish material is wildly popular in the production of sweaters, hats, gloves, and blankets, and more, but unfortunately, it isn't animal-free. Cashmere is traditionally made from goat's wool, which means its production can involve quite a bit of exploitation, cruelty, land-clearing, water waste, and everything else that comes with livestock farming. And while vegan cashmere exists, what is it made of?
Article continues below advertisement
Luckily as of 2023, there are so many different companies hopping aboard the vegan cashmere train. Although traditional cashmere has been around since at least the 14th century, according to LiveKindly, its production could (hopefully) be a trend of the past within the foreseeable future.
Keep reading for more on what vegan cashmere is made of, why you should opt for vegan cashmere over traditional, and more.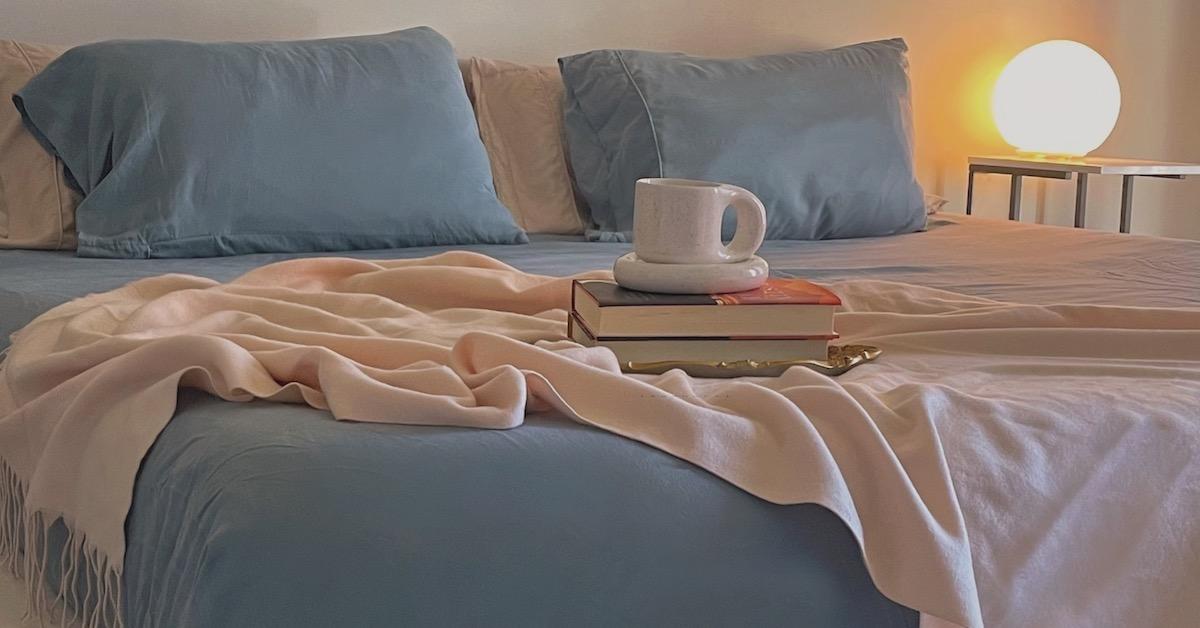 Article continues below advertisement
What is vegan cashmere?
Instead of using goats' hair for weaving, vegan cashmere gets a little ~creative~ to make something equally soft and luxurious.
Some brands use a mix of plant-based materials to achieve that cashmere feel. Viscose, polyester, and polyamide are a popular combination that ultimately makes for a soft cashmere-like textile. New York vegan fashion brand Apparis is famous for its unique and incredibly comfortable basics, pullover sweaters, and cardigans.
Other companies like Stella McCartney have taken to using cashmere waste, and repurposing it to make a cashmere-like material to make gorgeous sweaters, dresses, and more, without being involved with the harm that comes with cashmere production.
On the other hand, ethical home goods brand, ettitude, uses bamboo fibers to create an equally soft, breathable, and moisture-wicking product. For bedding, and the brand's upcoming Vegan Cashmere Throw Blanket, it's definitely the way to go.
Article continues below advertisement
If you're a knitter, you can even opt for vegan cashmere yarn. Hobbii offers a wide range of vegan cashmere yarns that are made from 100 percent cotton. So in addition to being cruelty-free, it's also much easier to take care of.
"An elaborated spinning technique makes it possible to combine the best of two worlds," the site reads. "…the softness of cashmere and the easy care of cotton."
Article continues below advertisement
What's wrong with cashmere?
And of course, environmental harm comes with animal agriculture. Making room for the animals, and the farmland to cultivate the food that feeds them, requires large amounts of land clearing. The animals and their food also require exorbitant amounts of water, and their waste often pollutes nearby waterways, as well as the air.
Ultimately, you're better off going with vegan cashmere — and it'll likely cost you less in the long run.