When you or a loved one needs surgery, the last thing you're probably thinking about is the environmental impact of the procedure — and rightly so, as you have plenty of other things to worry about. But apparently, certain substances used for general anesthesia — namely, desflurane — have a significant environmental footprint.
Article continues below advertisement
And so, some governments are banning the use of desflurane, and instead turning to other general anesthetics that are gentler on the planet.
Keep reading to learn about these chemicals, how they impact the climate, and what countries are quitting desflurane.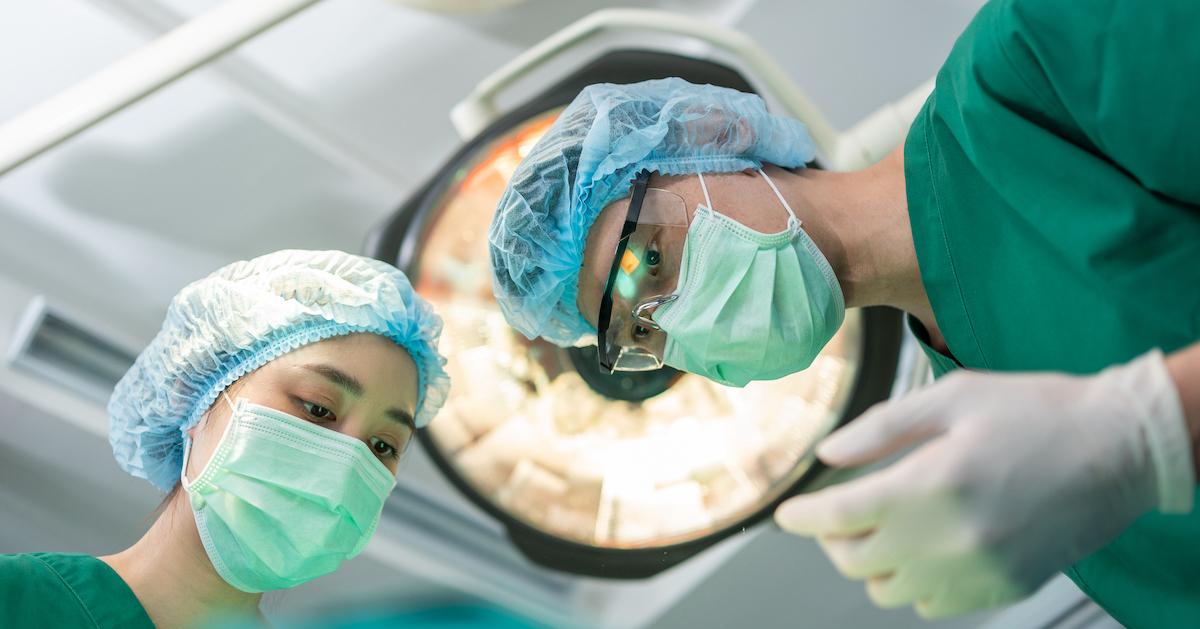 Article continues below advertisement
What is desflurane?
Desflurane, also commonly known in the U.S. under the brand name Suprane, is a general inhalation anesthetic used for surgery in adults, and sometimes used for maintenance anesthesia for surgery in children, according to DrugBank Online.
Scientists developed desflurane in the late 1980s, in pursuit of an anesthetic that would both act rapidly and clear rapidly. It gained FDA approval in 1992, and has been used frequently and all across the world since then.
Article continues below advertisement
Though desflurane is considered a safe general anesthetic, it has a harsh environmental impact.
According to GE HealthCare's Clinical View, desflurane can live in the atmosphere for 14 years after it is released into the environment. There, it will contribute to the greenhouse effect, and therefore contribute to global warming. It also has a global warming potential 2,500 times higher than that of carbon dioxide, as per the Scottish government.
Desflurane, isoflurane, and nitrous oxide (two other substances commonly used for general anesthesia) are the three general anasthetics with the highest global warming potential, Clinical View noted, via studies from NASA's Jet Propulsion Lab.
Article continues below advertisement
Scotland hospitals are banning desflurane.
On March 2, 2023, the Scottish government announced that all publicly-funded hospitals in Scotland are banning both the purchase and use of desflurane.
Clinicians across NHS Scotland hospitals have already been transitioning away from using desflurane to other anesthetics that are gentler on the environment, while remaining effective and safe for patients.
Article continues below advertisement
"While some hospitals and hospital networks around the world have stopped using desflurane, this is the first time it has been removed from a national supply chain," Kenneth Barker, Clinical Lead for the National Green Theatres Programme, said in a statement. "Our patients always comes first but it's great that we are now making clinically safe patient care decisions with sustainability in mind."
Going forward, desflurane will only be allowed to be used in Scotland operating rooms under "exceptional clinical circumstances."
According to the government, this transition has already cut harmful emissions by around 6.17 kilotonnes of carbon per year, which is equal to powering 1,700 homes every year, or driving between Glasgow and London 42,500 times.
Article continues below advertisement
This move is the first action for NHS Scotland's upcoming three-year National Green Theatres Programme. (Theatre refers to an operating room in this case.)
The program will guide hospital boards to help lower their environmental footprint, reduce costs, and use that saved money to improve patient experience. As part of the program, NHS Scotland has a goal of being net-zero for anesthetic gases by 2027.
England and Seattle are also cutting back on harmful anesthetics such as desflurane.
Article continues below advertisement
Additionally, anesthesiologists at Seattle Children's Hospital in Washington State have cut back on their use of desflurane and nitrous oxide by 87 percent over the past five years, in an effort to reduce the hospital's planetary impact, as per KUOW.
And going forward, experts across the anesthesiology field believe that governments and hospital systems must take more responsibility and action to reduce the environmental impact of their operations.
Article continues below advertisement
"The NHS is a really carbon-intensive industry," Dr. Helgi Johannsson, VP of the Royal College of Anaesthetists, told BBC News. "We need to concentrate on all the other major things that can make a difference — such as tackling old hospital buildings that are difficult to heat and reducing the journeys patients take."
Desflurane vs. sevoflurane — the latter is a better alternative for the environment.
According to Clinical View, the general anesthetic sevoflurane has a markedly lower environmental impact than desflurane, isoflurane, and nitrous oxide.
Sevoflurane only remains in the atmosphere for about 1.1 years, compared to 14 years for desflurane.
Interestingly, sevoflurane is three times more potent than desflurane, as per DrugBank Online. It can be used to both induce and maintain general anesthesia in both adults and children for surgery.
With other safe and effective general anesthesia options such as sevoflurane, now is the time for clinicians to transition away from more environmentally-harmful anesthetics like desflurane.